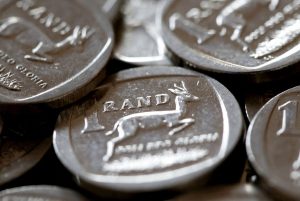 Johannesburg — The South African rand extended gains on Friday against a weaker dollar as analysts found comfort in the prospects of the U.S. Federal Reserve leaving interest rates unchanged in September.
At 0637 GMT, the rand traded at 19.1000 against the dollar, 0.46% stronger than its previous close.
The dollar last traded around 0.2% weaker against a basket of global currencies.
The dollar has weakened against most currencies, but "is still poised for its longest streak of weekly gains in years", said Andre Cilliers, currency strategist at TreasuryONE.
"This optimism is fueled by speculations that the Federal Reserve will maintain elevated interest rates," he added.
Risk-sensitive currencies such as the rand often take cues from global economic drivers such as the U.S. monetary policy.
The rand has had a tumultuous year, losing more than 12% against the greenback since January.
"One never knows with the rand these days, but the way things stand this morning and with little on the data calendar (dollar/rand exchange rate) should probably just drift sideways into the weekend," Rand Merchant Bank analysts said in a research note.
South Africa's benchmark 2030 government bond was stronger in early deals, with the yield down 3.5 basis points at 10.350%.
*Tannur Anders; editing: Sherry Jacob-Phillips – Reuters