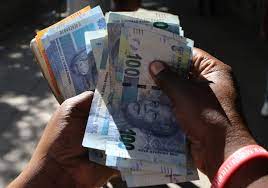 London — The South African rand firmed in early trade on Tuesday, helped by the U.S. dollar languishing near its lowest level since April 2022.
At 0550 GMT, the rand traded at 17.9800 against the dollar, about 0.3% stronger than its previous close. The dollar index, meanwhile, was down about 0.2%.
Local markets mostly shrugged off a decision by Fitch to affirm South Africa's sovereign credit rating on Monday, and this week's major focus is local inflation data out on Wednesday and an interest rate announcement on Thursday.
"The impact of the Fitch news on the rand is likely to be limited at best as much of what Fitch highlighted is well-known. The currency, for now, is tracking movements in the U.S. dollar," Rand Merchant Bank analysts said in a research note.
Analysts polled by Reuters are predicting inflation (ZACPIY=ECI) to further decline to 5.6% in June from 6.3% in May, putting it back within the central bank's 3% to 6% target range for the first time since April 2022.
The majority of economists expect no change in the South African Reserve Bank's repo rate (ZAREPO=ECI) on Thursday, but a significant minority are predicting a further 25 basis points increase to 8.50%.
The bank has raised rates at its last 10 monetary policy meetings to try to bring inflation back to target, in a hiking cycle that started in November 2021.
*Alexander Winning; editing: Varun H K – Reuters
Follow us on twitter