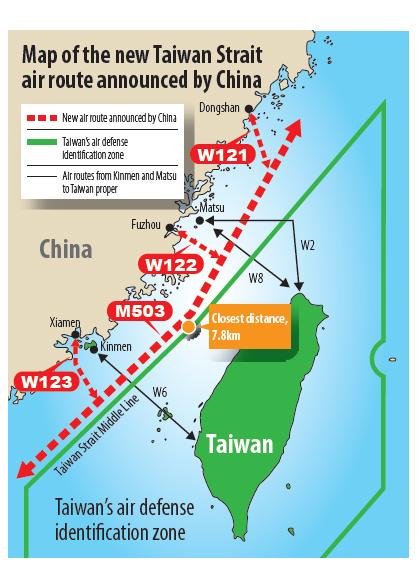 Tom Arms
London — Hong Kong has taught the Chinese leadership that they can't win the hearts and minds debate. One country, two systems, has not worked. Neither will Beijing be able to buy support with their economic performance.
All of this raises questions about the future of Taiwan, and recent moves by Beijing are causing an increasing number of misgivings about the possibility of a peaceful solution to a problem as old as the People's Republic.
Fears that the Chinese Communist Party is moving ever closer to a military solution have been fuelled by recent events. Last month 40 fighter jets from the People's Liberation Army (PLA) conducted a series of sorties over the sacrosanct median line that runs down the middle of the Taiwan Straits.
Taiwan's President Tsai Ing-wen responded with a call for tension-reduction talks with Beijing. China's President Xi Jinping wasted no time in replying. The following day he rejected negotiations, issued a threat to invade Taiwan and released a video of training exercises simulating an invasion of the island.
So what would such an invasion look like and what are its chances of success? Well for a start, the Chinese forces are about five times the size of the Taiwanese military, and they are backed up with nuclear weapons.
But that is not the complete story. Two-thirds of Taiwan is mountains which are much easier to defend than open plains. On top of that, there are only a handful of beaches suitable for Chinese landing craft. If the PLA does successfully land it will face a determined military of 174,000 professional soldiers and a million reservists. They—and the political hierarchy—will be ensconced in a bewildering labyrinth of mountain tunnels.
The PLA would win. But the price would be high. Which is why most military analysts believe that Beijing will go for the short, sharp knock-out blow. This would involve blanket bombing by the PLA air force and navy frigates as well as rocket artillery based 80 miles away on the Chinese mainland. Once the island has been reduced to a pile of rubble, PLA paratroopers will descend for the cleaning-up operation and occupation.
The position of the United States is another reason for a quick knock-out attack. The US does not have a formal alliance with Taiwan as it does with Japan and South Korea, but it does supply the island country with its military hardware and the close ties between Taipei and Washington date back to 1949. The Trump Administration has quietly provided Taiwan with more military equipment than previous US administrations. After Beijing released its latest threats and bellicose video the White House despatched $1.8 billion worth of defence hardware.
A President Joe Biden would almost certainly do the same. American protection for Taiwan enjoys bipartisan support. Trump's latest military injection required congressional approval. He secured it with minimum effort.
Whether or not bipartisan support would stand firm in the face of a Chinese invasion is unknown and untested. The Chinese certainly hope that they can establish a fait accompli before the United States has a chance to react.
America has the military might to shift the balance if the Taiwanese can hold out long enough. There are 54,000 US troops in nearby Okinawa; another 50,000 on mainland Japan; 24,000 in South Korea and 700 in the Philippines. The US Seventh Fleet has 50 ships with 200 aircraft and 20,000 naval and marine personnel. Long distance heavy bombers are based at Anderson Air Force Base a Guam.
But is Taiwan worth it? Is it worth the almost certain danger of all-out war with a nuclear-armed China? On the other hand, could American prestige survive a failure to act?
World Review
Good news from and for America, and for the rest of the world. The last of the presidential debates is done, dusted and forensically dissected. On top of that, the reasonable conduct of Biden and Trump went a long way to recovering America's political reputation after the embarrassing bun fight that was the first debate. But who won? A quick review of the instant polls points to a major victory for Joe Biden. Diehard Republicans are claiming a tie which is still bad news for Trump because he had to thoroughly destroy Biden if he was going to come from behind to win the election. Trump's biggest problems were a lack of empathy, an absence of any clear policies and his continuing predilection to lie or make unsubstantiated accusations almost every time he opened his mouth. When Trump was attacked for an immigration policy that has left more than 500 children without parents his response was "Well, they are being well looked after." His lack of any clear policies for combatting the coronavirus pandemic was savaged by Biden; as were his claims that he had a clear and better alternative to Obamacare. Trump's attempts to blacken Biden's character by calling him the "most corrupt politician ever" fell flat. After 47 years in Washington, Joe Biden, has one of the best reputations in American politics. The issue on which the former vice-president scored was national divisiveness. Trump attacked Democrat-controlled states for their handling of the pandemic. Biden pointed out that coronavirus was hitting Republican states as hard as those governed by Democrats. Then he stressed that a Biden Administration would "represent all Americans," not just a base of supporters. It is unlikely that the final debate will have anything other than a minor impact on the final outcome. Only six percent of the electorate are said to fall into the undecided category. And, with only 11 days to go until polling day, 46 million Americans have already voted.
In Thailand, telling your friends and family that "the king wears old boots" could land you in prison. At least that was the case until very recently. Now there are thousands of Thai citizens taking to the streets, so many that the police can't possibly arrest them all. And they aren't just criticising the royal footwear. They are demanding the end of the monarchy, a clampdown on the country's rampant corruption and the introduction of democracy. This never happened during 63-year reign of Bhumibol Adulyadej. He more or less kept out of politics and led a quiet life as a national symbol of continuity and basic decency. As a result people were able to largely stomach the on-off military governments, banning of political parties and crooked politicians. His son Maha Vajiralongkorn, who was crowned last year, is another matter. He is currently on wife number four, whom he married just days before his coronation. The King is said to have a gambling addiction which has been largely funded by ex-prime minister Thaksin Shinawatra. But money is not a problem because he is the world's wealthiest monarch with assets totalling $30 billion. Until recently the Thai public were under the impression that the monarchy acted as steward for the nation as regards the cash. But then Maha Vajiralongkorn decreed that every penny was his personal wealth. He also ruled that the 17,000-strong Bangkok military garrison was under his protection. Not that he needs protection from the demonstrators. The king has been holed up in a remote Bavarian castle since the start of the Covid-19 pandemic.
It looks as if the US and Russia are set to renew for a second time the Strategic Arms Reduction Treaty (START). This diplomatic document dates back to July 1991 and was renewed the first time by the Obama Administration in April 2010. This is obviously good news for the rest of the world. But not so good is the failure of Russia and the US to renew the 1987 Intermediate-Range Nuclear Forces Treaty (INF). This completely banned the deployment of nuclear-tipped missiles with a range of 310-620 miles and 620-3,420 miles. The INF Treaty was designed to protect West European targets from Soviet missiles and Soviet targets from US intermediate-range missiles based in Europe. The Europeans were particularly keen on the treaty because they feared that an agreement that concentrated only on long-range strategic systems would end up driving a wedge between Europe and the US and increase the Russian threat to Western Europe. It looks as if their fears may be justified. Trump has called on European NATO partners to take more responsibility for their defence and withdrawn from the INF Treaty after accusing Russia—quite correctly– of breaking the treaty terms. Vladimir Putin responded by also withdrawing and immediately developing a new hypersonic missile, the 3M-54 Kalibr System. The prospects of a new INF Treaty have been further damaged by President Trump's insistence that China be included in any new negotiations and reductions. The Chinese have refused.
France has a new dead hero. Samuel Paty a middle school history, geography and civics teacher was beheaded by a Chechen-born Jihadist after he showed his class cartoons of Mohammed as part of a lecture on freedom of speech. France is a devoutly secular country. It has been such since 9 December 1905 when the Chamber of Deputies passed "The French Law on the Separation of the Churches and the State." This law was meant to protect the government from interference by religious organisations and to protect the religious organisations from the politicians. It was originally aimed at the Roman Catholic Church, but with an increasing number of Muslim immigrants—and incidents involving Islamic terrorists—the emphasis has shifted and grown to encompass the race and immigration debate as well. Earlier this month President Emmanuel Macron outlined a new law aimed at "freeing Islam in France from foreign influences." The law, which will be voted on in December, will require Islamic organisations that want government money to sign a secular charter binding them to the 1905 law. If they do, then Macron promises money for housing and education in poverty-stricken Muslim communities. The new law is designed to undermine the electoral hopes of Marine Le Pen's far-right, anti-immigrant National Rally party (formerly the National Front). Presidential elections are still two years away, but Marine Le Pen's is the biggest threat to Macron securing re-election.
The United Nations will be 75 years old on 24 October. Which means that it is even older than me. During its three-quarters of a century lifetime the world body and its 15 specialised agencies has developed a reputation for both corruption and life-saving operations. It is universally loathed as ineffectual and interfering while at the same time recognised as being only as good as its 193 members allow it to be. The developing world criticises the structure of the UN as an out of date reflection of the world in 1945. America, the UN paymaster, attacks the organisation as a platform for an ungrateful developing world to abuse the US. Donald Trump has been especially loud in his assaults on the United Nations as part of his America First campaign. He has withdrawn from The World Health Organisation, the Human Rights Council, refused funding for Palestinian refugees and is $3.6 billion in arrears on America's financial contributions. Trump is not the first American president to criticise the UN. But he is the loudest and most forceful. And every time Trump takes a step away from the world body America's chief opponent—China—moves to fill the vacuum. Washington complains almost non-stop about the UN, but it pays 22 percent of the United Nations' budget which puts it in the position of he who pays the piper calls the tune. China is the second largest contributor at 12 percent, but the figure is growing, which raises the question: who will be calling the tune when the UN reaches 100?