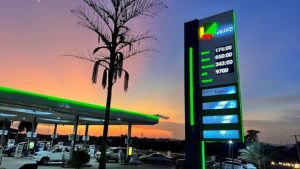 Mkpoikana Udoma
Port Harcourt — Labour leaders have urged the federal government to open up NNPC by ensuring the company enters not only the nation's capital market but also the New York Stock Exchange, in order for ordinary Nigerians benefit from the company.
According to them, Saudi Aramco of Saudi Arabia is doing well and making so much profits for its shareholders and the country, because the company is listed and not a member of the Organization of Petroleum Exporting Countries, hence not bound by OPEC's quota.
The Chairman, Trade Union Congress in Rivers State, Comrade Ikechukwu Onyefuru, said there should be no further delay in thr listing of NNPC in the Nigerian Stock Exchange, saying that all the serious-minded profit-driven ventures around the world were all publicly listed.
Onyefuru explained that the reason NNPC transformed from a corporation to a company was to be more viable, transparent and more profit oriented and more open to investors and new investments.
"All the major players in the oil and gas sector around the world are all listed as public companies and on the capital market in their home countries. For example, Saudi Aramco is a listed company, and their books are open for scrutiny. Even Google is a listed company.
"The listing of NNPC on NSE will be beneficial to both the shareholders and investors. It will grant access to untapped market, enhanced visibility of the company using public disclosure rules. It will make the company accessible to everyone.
"Listing the company will open to new investors, both domestic and foreign investors, the PIA has provided the leeway for that to happen.
"Already Nigerians have lost trust in NNPC just like other public organizations, but with the listing and becoming a public company, stronger trust will be built. NNPC will no longer be a portfolio manager but a manger of real business, even the pressure on forex will be reduced."
On fears and pessimism that NNPC shares in the capital market will be hijacked by the political elites, who would buy off the shares to become the major stakeholders and therefore be in control of the company, the TUC boss.
"There will be established due process to qualify investors. Even if politicians invest money, it will be to make profit and I'm not sure they will sit back to watch the company die off, besides there will be laid down processes to qualify an investor.
"When listed, the company will be well regulated like other listed companies. Once listed, the company will be subjected by investors to think into the energy transition.
"We should look at it from a positive side and I'm certain any problem that may arise will be mitigated once they arise. You may be shocked that even private individuals will buy off the government shares. Nobody should be scared of change. Every business is set up to make profit, once listed, the company will be subjected next to public disclosure and scrutiny.
"I think there should more public enlightenment to make Nigerians what NNPC entering the capital market will mean to them. We should learn from Saudi Aramco."
For his part, the Chairman of PENGASSAN, Port Harcourt Zone, Comrade George Nwoko, said listing NNPC will increase the company's output, more jobs will be created, and it will be a tripartite gain to Nigeria, shareholders and workers.
"It is a good idea to list NNPC on the Nigerian Stock Exchange, it will make the company to be profit driven and it's a welcome development because that is what we all have been clamouring for.
"Indorama was under NNPC and the company was moribund, after it was privatized, the company is doing massively well today and expanding.
"Let NNPC be listed first, and we can tackle any issue that may arise, let us start somewhere first. Saudi Aramco is doing well, and we should learn from them."
On energy transition and fears that hydrocarbon was no longer an attractive investment, Nwoko said "There is still need for hydrocarbon and hydrocarbons will still be around for a long time. Hydrocarbon will exist side by side with renewables, while we look forward to transition.
"Besides, renewables are very feasible right now even around the world, as we speak many European countries have gone back to powering their coal plants as a result of the ongoing Russian and Ukarainian war."
For the Independent Petroleum Marketers Association of Nigeria, IPMAN, the benefits of transiting NNPCL to NNPC Plc. are enormous, as it will give room for accountability, efficiency and profitability.
IPMAN Chairman in Rivers State, Dr Joseph Obele, said the best option for NNPC and Nigerians is for the company to transit to NNPC PLC and that the time was now.
"The President of the Federal Republic of Nigeria cannot appoint or sack the board of directors once it is listed on the NSE and it becomes NNPC PLC. At that point, any Nigerian can own shares and also transfer such. That will boost transparency and abolish the long-time national cake syndrome that has dominated the psychology of the public.
"Amongst other benefits will be accountability, profitability, operational effectiveness, efficiency, better reliability, more flexibility, easy communication.
"The anticipated competitive threat of the biggest private refinery in Africa, Dangote Refinery coming up soon is another critical reason to make the NNPC a public limited company in a no distance time. Studies have shown that private investors on other sectors suffocate in any competitive market against the Dangote PLC, arising from the game theory adopted by the conglomerate. In most cases, Dangote PLC end up acquiring majority shares of its competitors and then takes over those companies. It is obvious that a Conglomerate that private firms could not stand in a competition, likewise a government-controlled firm might not survive the threat."
Similarly, a renowned Labour leader and former PENGASSAN Chairman, Comrade Azubuike Azubuike, explained that for ordinary Nigerians to benefit from the NNPC the company should be listed also on the New York Stock Exchange.
Azubuike explained that under the Petroleum Industry Act, NNPC is expected to become a profit-making venture and not as it used to be, adding that when listed, the company will run transparently, and the governance of the conglomerate will improve.
"Listing NNPC will help to raise capitals to fund more projects and enhanced production. NNPC should not only be listed on the Nigerian Stock Exchange but also on the New York Stock Exchange, so there can be checks and balances and transparency.
"What this means is that Nigeria will leave OPEC, cause investors will want to produce more oil to make more profits and not to be regulated with OPEC production quota. Saudi Aramco of Saudi Arabia is making so much money because they can pump as much oil as they like to make more money, they are not member of OPEC and even their oil production cost is very low."
On fears by industry watchers that NNPC could be hijacked by the political elites if listed, Azubuike wondered if ordinary citizens were benefiting from the company now that it's shares were supposedly not in the capital market.
"If we say politicians will hijack the shares, now are ordinary Nigerians benefiting from NNPC? Remember that the government will still have a substantive number of shares just like in Saudi Aramco, and then there will be checks and balances.
"Listing NNPC is an opportunity to raise money, governance and invest in other opportunities including cleaner energy. I hope there will be a political will to make things happen so that ordinary Nigerians can benefit from the company."
Follow us on twitter