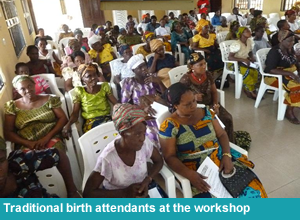 22 August, 2011, Sweetcrude, Abuja – Total recently demonstrated its commitment to its community engagement strategy of partnering with stakeholders in each community in determining and supporting their real and identified needs.
In pursuit of this partnership effort, a gap in project and social development management had been identified among the stakeholders within the communities. To fill this gap, Total has been carrying out enlightenment programmes for its host communities through seminars, workshops and sponsorships.
On Wednesday, 20 July, 2011, Total organized a seminar in Port Harcourt for 50 representatives from host communities in OML (Oil Mining Lease) 100, Andoni and Opobo Nkoro on "Communities structures & Development Projects Evaluation".
The resource person, Dr. Emma Ogueri, took participants through the various steps necessary to enhance their capacity for effective management of development projects within their respective domains. These include acquisition of knowledge; zeal to apply acquired skills; discipline and respect for deadlines.
Addressing the participants, the Executive Director, Joint Venture Offshore Assets, Mr. Patrick Ngene thanked the communities for providing a peaceful ambience for the continuous operation of the company in their domain. He advised them to avail themselves of the opportunity to develop their managerial capacity for mutually beneficial partnership in sustainable development.
Most of the participants expressed delight and appreciation to Total for organizing the workshop and appealed to the company to encourage more enlightenment programs geared towards enhancing the capacity of community stakeholders.