Zungeru — The Nigeria-Sao Tome and Principe Joint Development Authority in collaboration with TotaEnergies Upstream Nigeria Limited, and ExxonMobil have inaugurated and handed over a hygiene and sanitary facilities under the batch 5 corporate social responsibility, CSR, projects, to the management of the Niger State Polytechnic, Zungeru.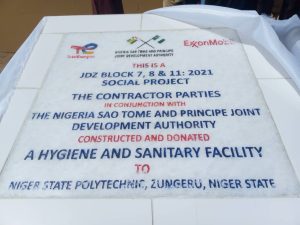 The initiative is in furtherance of the corporate social responsibility initiative of the oil companies and its partners
For Ibrahim Yakubu and Blessing Kefas, both of them students of the Niger State Polytechnic Zungeru it is a dream come true as they both recalled the unhygienic situation, they found themselves living before the intervention of TotalEnergies, ExxonMobil and the Nigeria-Sao Tome & Principe JDZ.
The Niger State Polytechnic, Zungeru, is one of the institutions from the North Central Region to benefit from the TotalEnergies CSR projects bordering on health, education and other critical sectors.
The hygiene and sanitary project consist of ten toilets divided into two parts of five each for males and females, as well as handwash basins and dryers supported with a solar powered borehole with overhead storage tank.
Speaking on the development, the Chairman of Nigeria-Sao Tome and Principe Joint Development Authority Board, Dr. Almajiri Geidam who was represented by Dr. Abdullahi Bala Isah, said it is part of the corporate social responsibility of the Nigeria-Sao Tome and Principe Joint Development Authority, TotalEnergies and ExxonMobil.
"This is to improve sanitary conditions and mitigate the spread of diseases for the benefit of students and the community.
Also speaking, the Managing Director and Chief Executive, TotalEnergies Upstream Nigeria Limited, Mike Sangster who was represented by Tijjani Muhammad pointed out that the project is among eight projects scheduled for inauguration in the last quarter of 2022.
He said that the projects were being inaugurated using the novel approach of 'Pojerct managers' which permits the delivery of projects in remote and challenging environments While ensuring the use of local expertise and stakeholder engagement.
While speaking, the Rector of the Niger State Polytechnic, Zungeru, Dr. Ibrahim Umar Kontagora said the institution remains indebted to all the donor agencies for finding them worthy to be among beneficiaries.
He gave an assurance that the school management would maintain the facility for sustainable use of the beneficiaries of the project, adding that they are elated, especially since the project which is the first of its kind will go a long way in addressing challenges and deficiencies.
The donors of the project were in turn presented with certificates as a token and record of the institution's appreciation to them in recognition of their effort.
Follow us on twitter