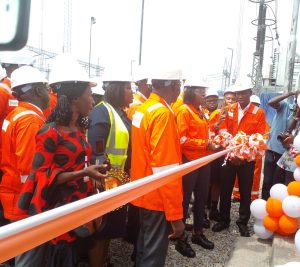 – Targets additional 240MW in 2023
Mkpoikana Udoma
Port Harcourt — Transcorp Group says it has increased power generation at Transafam Power Limited from 48MW to 188MW in less than two years while plans are in top gear for additional 240MW this year 2023.
President of Transcorp Group, Mrs Owen Omogiafo, disclosed this on Monday while commisioning the newly rehabilitated 20th gas turbine, GT20 in Afam, Oyigbo Local Government Area of Rivers State.
Omogiafo also said currently the Transafam Power was generating 188MW, stressing that the major challenge facing the company was gas supply.
"It's on record that we recovered Afam-5 GT20 in September last year. We have added another 188MW to the national grid.
"We have four more gas turbines ready to operate as soon as we have gas. Discussions are on with stakeholders for gas to be provided.
"I have just been informed that we are heading to Afam-III Fast Power which is aerodynamics technology which is expected to bring additional 240MW this year.
"Our target is for us to be the leader in the power sector space and we are looking at the entire value chain. We are looking ahead and we want to build local capacity. Before now to repair a gas turbine component, you will have to fly abroad but now, we have built and commissioned our own clean room for the maintenance of these turbines. It about fulfilling purpose which is improving lives and transforming Africa."
Also spekaing, the Managing Director of Transafam Power Limited, Engr. Vincent Ozoude, said the company has saved capital flight by building its own "clean room" for the repair and maintenance of gas turbines' components.
"We have just Commissioned the generator clean room to repair gas turbines. We use the facility to repair generator rotors that will help us minimize the timeline of getting generator rotors out of the country to repair and then bring them back to Nigeria.
"We have saved the cost, time, logistics, labour and capacity development by having this clean room here.
"We took over this plant at 48MW of power generation and in less than a year and nine months we have grown it to 188MW out of the 966MW installed capacity."
It should be noted that Transcorp Group in 2020 acquired the 966MW installed capacity Afam Power Plc and Afam Three Fast Power Limited, at an acquisition cost of N105.3billion.
Afam Power Plc, is Nigeria's premier thermal power plant located in Okoloma-Ndoki, Oyigbo LGA of Rivers State, built between 1961 and 2001, by Brown Boveri Company, Asea Brown Boveri, ABB and Siemens.
The station has five power plants, consisting of 20 gas turbines with a combined capacity of generating 966 mega watts of electricity.
Follow us on twitter