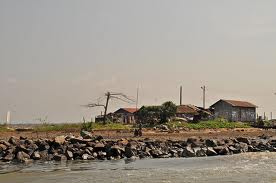 03 December 2012, Sweetcrude, Warri – Mr. David Tonwe, Chairman of the parallel Ugborodo Community Trust, UCT, in this interview, insists in this interview, the legitimacy of his mandate and denied being an agent provocateur in the crisis.
There is a leadership tussle between you and Chief Thomas Ereyitomi. What are really the issues at stake?
There is no leadership tussle in Ugborodo. Chief Thomas Ereyitomi's tenure as Chairman of Ugborodo Community Trust ended on 27 August, 2011. His refusal to accept the termination of his tenure, after three years and to perpetuate himself in power, is the crux of the matter.
The governor of Delta State, Dr. Emmanuel Uduaghan, has waded into this matter and you were said to have walked out on him. What happened?
We received an invitation from the Deputy Governor of Delta State, which was also extended to Thomas Ereyitomi. Ereyitomi did not honour the invitation. The Deputy Governor apologised on his behalf and promised to invite us again. We are still waiting.
Why is the intervention of the Olu of Warri not agreeable to you and your group?
The invitation of the Olu of Warri of the stakeholders of Ugborodo came while the issue of alleged misappropriation of the Ugborodo Community Trust funds under the leadership of Thomas Ereyitomi was being investigated by the Inspector General of Police and also while the issue of the chairmanship of Ugborodo Community was pending in court. These two major facts were put before the Olu of Warri.
The Olu of Warri, as a learned man with many years experience at the Bar, could not have adjudicated and given judgement in favour of Thomas Ereyitomi as they claim on a matter that is clearly sub judice.
How did you emerge as a parallel chair of Ugborodo Community Trust?I emerged as the Chairman of the Ugborodo Community Trust through the established constitutional and customary pattern, which brought in Thomas Ereyitomi as Chairman in 2008, which pattern and institutions he ignored and desecrated in 2011 before my election. These facts he cannot deny.
What do you know about the November 3 killing of three youths at Otumara. Your name is being mentioned as sponsor of the killers?
Everyone knows me as a peace loving and no violent person. I wish same could be said of my accusers who move around with state security personnel who they use to terrorize, harass and intimidate innocent persons. I vehemently deny sponsoring or having any involvement whatsoever in the death of the three young men at Otumara.
The questions that should agitate the minds of unbiased and inquisitive persons are legion. Who are the aggressors? Is it those who left Ugborodo for Otumara or those who were on their own in Otumara, their own land of nativity and birth place? The police should investigate who recruited non-indigenes of Ugborodo who cannot swim to assail those who were on their own at Otumara.
The Eghare-Aja appears to have shifted from your camp by returning to Ugborodo to reconcile with the people. Is this correct?
Eghare Aja Wellington Ojogor has been travelling to Ugborodo since and after my election without hindrance. His wife has cried out that this time he was kidnapped and that whatever he signs should be taken as made under threat and intimidation.
She alleged that she was beaten and her clothes torn, her houseboy beaten with his legs broken and has been hospitalized. Several items and properties in the house of the Eghare Aja were destroyed. His son Tuoyo Ojogor was beaten and arrested. She did not hide who was behind all these.
The Eghare Aja is known to be very ill and has been receiving treatment at the Delta State Teaching Hospital, Oghara and Ajuya Clinic in Warri. Could such a man have left Warri without his wife and medications for Ugborodo?
What is the way forward?
The way forward is for all concerned to respect the rule of law already established by the constitution, the custom and tradition of Ugborodo, which made Thomas Ereyitomi the Chairman in 2008 and which elected me in 2011.