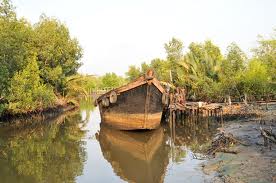 Daniel Gumm
14 November 2012, Sweetcrude, WARRI—THE crises rocking Ugborodo Community over leadership of the Ugborodo Trust Board has deepened as the Eghare-Aja of Ugborodo, Chief Wellington Ojogor, has been reportedly kidnapped, Tuesday, in Warri.
Ugborodo community in Delta State is host to the Otumara oil flow station.
Two factions are laying claim to leadership of the board – one led by Mr. David Tonwe, a former Chairman of Warri South-West Local Government Council Area in Delta State, while the other faction is led by Chief Thomas Ereyitomi.
It was gathered that the group led by Chief Ereyitomi has the backing of a top member of Delta State Government, while the group led by David Tonwe has its support base from the elders of Ugborodo Community, which include the Eghare-Aja and Pa J.O.S Ayomike. Few months ago, Pa Ayomike escaped the assassin's bullets by the whiskers.
Speaking via telephone, Tuesday, Pa Ayomike condemned the the kidnapping of Eghare-Aja and said: "First they came to kill me, and God saved me and now they have kidnapped the Eghare-Aja. God will save Eghare-Aja also.
"These incidences are strange to Ugborodo Community. Once governments get itself involved in Ugborodo leadership tussle, this is the result."
In his reaction, Chairman of Ugborodo Trust Board, Mr. Tonwe condemned the kidnapping of the Eghare-Aja, saying that these "merciless acts of brigandage cannot dampen the resolve of the Ugborodo people to independently chart their course."
He called on the police to fish out the perpetrators of the act.