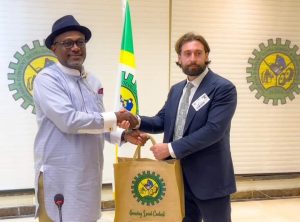 Mkpoikana Udoma
To this end, the UK government has initiated a programme, tagged 'Manufacturing Africa', which is supporting 22 manufacturers to land investments in Nigeria, to the tune of over $664 million in foreign direct investments, FDIs.
The Second Secretary (Political), British High Commission in Nigeria, Mr. Hamish Tye, announced these when he visited the Nigerian Content Development and Monitoring Board, NCDMB, in Yenagoa, Bayelsa State.
Tye said the visit by the UK Mission in Nigeria to NCDMB was to better understand the Board, its mandate, functions and achievements, as well as the work being done by the Board to develop Nigerian companies and also to seek avenues for collaboration.
He said: "The UK Government is committed to supporting clean, green and sustainable economic growth in Africa. In line with that commitment, the UK has initiated a programme tagged Manufacturing Africa programme which is supporting 22 manufacturers to land investments in Nigeria, with a pipeline of $664million foreign direct investment.
"The programme supports over 120 companies across five countries in Africa, which are mitigating 239,000 tonnes of carbon dioxide, while creating 14,000 new jobs."
Tye noted that UK's Foreign Secretary, James Cleverly, during his Africa tour recently, visited a Nigerian e-mobility platform and electric vehicle assembler, MAX Nigeria, assuring that the British High Commissioner to Nigeria, Richard Montgomery, would also support other companies breaking new grounds on the continent.
"With support from the UK-funded Manufacturing Africa programme, MAX raised $31 million to ramp up the assembly of electric two- and three-wheelers. MAX is now gearing up for a third capital raise, to fund its expansion to become a regional e-mobility player. MAX Nigeria has empowered over 21,000 drivers operating in 8 cities within Nigeria and has contributed to cutting 52 metric tons of CO2emissions from the environment," he said.
He commended the Board for its enormous investment in research and development, promotion of innovation through its Nigerian Oil and Gas Technology Hackathon and Project100 among others, which he said provide avenues for collaboration.
Responding, the Executive Secretary of NCDMB, Engr Simbi Wabote, provided a detailed overview of the Board, its mandate and functions and some of its achievements in training, funding, research and development in boasting the country's economy.
Wabote explained that the various initiatives put in my NCDMB by building capacities for the industry which is the mandate of the Board set the tune for Nigerian companies to take centre stage in the oil and gas industry.
He assured of the Board's willingness to collaborate with the UK Mission in Nigeria in line with its established mandate, as he explained that the idea behind the Board's Oil and Gas Parks was aimed at developing manufacturing hubs to enable oil and gas manufacturers produce equipment in-country.