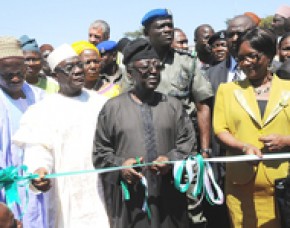 14 March 2013, Abuja – Mr Idi Waziri, the Plateau Commissioner for Water Resources, says a Ukrainian company, Stroy-Alyans, plans to boost electricity supply in the state.
Waziri told the News Agency of Nigeria, NAN, in Abuja that the investors planned to construct a hydro power plant in the state and that an agreement for the construction of the facility had already been signed between the government and the company.
Said the commissioner: "We have already signed a Memorandum of
Understanding with a Ukrainian company, Stroy-Alyans ; they have come to
Plateau State, they have identified some hydro potential and they have promised that within this year they are coming back with their funds to construct a power station in Plateau.
"At the same time, they will also proceed in the areas of transmission to the public and it is going to be on Build, Operate and Transfer.
"Not quite long again, some experts again from South Korea came; they have gone round and they have been able to identify some sites; very soon, we are going to see them coming to Plateau to construct hydro power stations."
The commissioner said that Plateau was ready to partner with whoever was going to be a successful bidder for the transmission company in the state.
He stated that the state government had set up a machinery to ensure that the 132 KV line which the Federal Government had constructed in Plateau becomes functional as soon as possible.
Waziri said that the state government was ready to network some towns and villages as surveys had already been done and budgetary provisions made.
According to him, the state government was waiting for the lines to be energised so that once the towns and villages were networked, they could be hooked to provide electricity for the citizens.