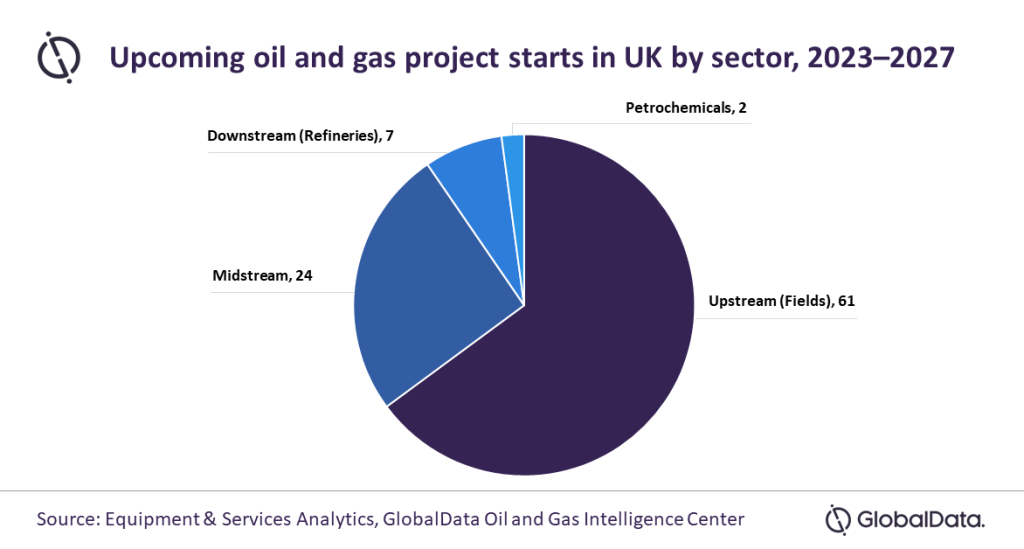 Lagos — The upstream fields segment is set to dominate upcoming oil and gas projects in the UK, accounting for more than 65% of the total project starts anticipated between 2023 and 2027, says GlobalData, a leading data and analytics company.
GlobalData's report, 'Europe Oil and Gas Projects Analytics and Forecast by Project Type, Sector, Countries, Development Stage, Capacity and Cost, 2023-2027,' reveals that 94 projects are expected to start operations in the UK during the period 2023- 2027. Out of these, the upstream (fields) projects are expected to see the highest with 61 project starts, followed by midstream with 24 projects, refinery, and petrochemical at seven and two projects, respectively.
Himani Pant Pandey, Oil & Gas Analyst at GlobalData, comments: "A number of oil and gas projects are slated for development in shallow waters of the North Sea during 2023–2027. The shallow waters of the North Sea still have an important role to play in promoting the UK energy security, especially in the context of weaning away from the Russian oil and gas supplies."
Among the upcoming production projects in the UK, Rose Bank is a key project with a total production capacity of 121 thousand barrels of oil equivalent per day. To be operated by Equinor UK Ltd, the project is expected to commence operations in 2026.
"Despite concerns from the climate activists and an increase in windfall tax by the UK government on the oil and gas sector, the latest North Sea oil and gas licensing round in 2022 attracted around 115 bids, an increase of 11 when compared to the previous licensing round in 2019. The latest licensing round reflects efforts of the UK government to boost oil and gas production in the country." Pandey concludes.
Follow us on twitter