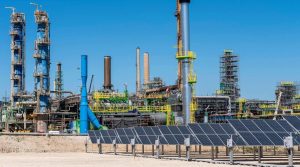 Caracas — Venezuela's state-run oil company PDVSA restarted a key fuel-making unit at its largest refinery over the weekend, which should ease gasoline shortages in the country's western region, five sources close to operations said on Monday.
The 645,000-barrel-per-day Amuay refinery has had its fluid catalytic cracker (FCC) out of service since March while in repairs.
"Amuay's cracker is now up, processing some 70,000 bpd," one of the sources said. The unit's capacity is 108,000 bpd.
However, the neighboring 310,000-bpd Cardon refinery has been unable to restart its FCC, which has been out of service since early June following equipment malfunctioning. Workers are now trying to put a naphtha reformer back in service in the coming days in that refinery to ramp up production of motor fuels, the sources said.
The bad condition of PDVSA's refining network has caused intermittent waves of fuel scarcity in Venezuela in recent years, forcing drivers to line up for hours to fill their tanks.
PDVSA did not immediately reply to a request for comment.
The Amuay and Cardon refineries, which combined form the Paraguana Refining Center, are processing about 237,000 bpd of crude this week, a quarter of its installed capacity, one of the sources said.
Reporting by Mircely Guanipa in Maracay and Deisy Buitrago in Caracas, writing by Marianna Parraga; editing by David Evans – Reuters
Follow us on twitter