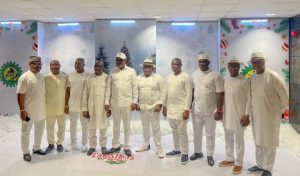 Mkpoikana Udoma
Port Harcourt — Executive Secretary of the Nigerian Content Development and Monitoring Board, Engr. Simbi Wabote has applauded the workforce of the Board over what he described as outstanding performance and productivity that has lifted the Board to enviable heights.
Wabote speaking at the Nigerian Content Towers Yenagoa, Bayelsa State in a event to close the year 2022, said the performance of the staff members of the Board was evidenced by results achieved in the course of the year and preceding years.
According to him, NCDMB achieved a milestone in Nigerian Content development, which climbed from 47 to 54 percent, and the Board had clinched the 'Best MDA' Award for Ease of Doing Business and also the Presidential Award for Distinguished Capacity Development.
"This is a place where we have lots of talents," he stated adding that sometimes he assigns tasks to employees whose competence he has not tested before, but that they always end up producing the best results.
"I see people whose thought process is to improve the organisation. Their thought process is how to make a difference," assuring that the Board would always show appreciation, and endeavour to provide good working conditions.
To the very few whose thought processes are not constructive, he advised them to turn a new leaf and emulate the positive colleagues with sound work ethics, "The thought process we are building is how to add value," he said.
In line with the Board's plans for a conducive and safe working environment, the NCDMB boss also announced that work on a creche for nursing mothers in the organisation's workforce was progressing well and would be completed soon.
He also disclosed that a fire truck capable of dealing with emergencies even on the 17th floor of the building has been acquired and would also be commissioned soon.
Explaining the many different benefits, the presence of NCDMB in Yenagoa has continued to attract to Bayelsa State, he said a 204-room hotel of five-star ranking is being built in the vicinity of the Nigerian Content Towers.
Earlier, the Manager, Corporate Communications, Barr. Esueme Dan Kikile, explained that 54 percent level in Nigerian Content was an appreciable leap in in-country value retention, as it translates into retention of $54 of every $100 expended by oil and gas companies in industry operations.
Kikile explained that prior 2010, the year of enactment of the Nigerian Oil and Gas Industry Content Development Act, Nigerian Content was as low as five percent, and the country bled from capital flight.
As part of activities at the event, awards were given to deserving staff, among them workers who have put in 10 years and above.
Among others honoured were pioneer personnel of the Board who were seconded from the Nigerian National Petroleum Corporation.
Follow us on twitter