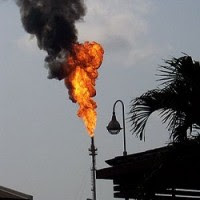 Anayo Okoli
17 July 2012, Sweetcrude, UMUAHIA—THE Abia State Petroleum Monitoring Taskforce has impounded a truck loaded with 33,000 litres of substance suspected to be crude oil at the premises of a private company in Ossa area of Umuahia.
According to the State Commissioner for Petroleum, Chief Don Ubani, the arrest of the truck was sequel to a petition by the Ossa Community alleging that the company had been operating an illegal refinery.
On the strength of the petition, Ubani said he directed the taskforce chairman, Mr. Tony Anyanwu to investigate the case, "which he did and brought back a report that the suspected truck and the substance are at the said premises with a sample to attest to that effect".
He said the truck marked, Abia XB 855 NGK had been under surveillance for some days before the information that the truck was parked somewhere around Ossah Community.
Ubani said the company had been deceiving the public by claiming to be in a different business while inside the premises it had "been running an illegal refinery contrary to the state government laws".
"There is no doubt that the contents in the truck is crude oil, but we are going to run a test on it to prove them wrong and once that is done we will move to the next step, which is invoking the laws of the state on the company and its owners," he said.
Reacting, a staff of the company, Mr. Jonathan Anyanwu denied the company was running any illegal refinery. According to him, the company was only engaged in vegetable oil, "where we crush palm kernel to extract vegetable oil which we sell".
According to Anyanwu, the contents of the truck are not crude oil, "it is what they call LPFO which is used to fire the boiler for our production, and we are not running any illegal refinery as the present administration has made it nearly impossible for oil bunkering to take place in the state".