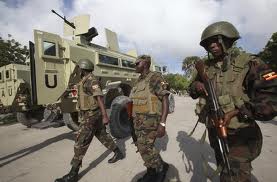 28 August 2012, Sweetcrude/African Press Organization (APO), MOGADISHU, Somali    –  Somalia troops with the assistance of the African Union Mission Troops, have this morning pushed Al Qaeda-affiliated terrorists out of Marka, the third-largest port in Southern Somalia.
The dawn operation met little resistance as the AMISOM and Somali National Army troops steadily advanced to Shalamboot and established a defensive position there.
Located 90 kilometres south of Mogadishu, Marka has been under the brutal rule of the extremists since November 2008. In recent months, many of the al Shabaab's top commanders have been fleeing towards the town following a string of defeats by the allied forces. The capture of Marka is also critical for AMISOM future operations to liberate the city of Kismayo, the extremists' largest source of illicit revenue.
This important achievement comes at a critical time for Somalia as the country's newly inaugurated Parliament prepares to elect a Speaker and President for the country, and bring to a close 12 years of transitional governments.
AMISOM Force Commander, Lt. Gen. Andrew Gutti, said the capture of Marka would enhance security across Somalia by denying the terrorists a base from which to launch attacks.
"AMISOM is committed to supporting the peace process in Somalia and this operation will not only bring relief to the population in Marka, but will also help in the liberation of Kismayo," he said. "Our aim is to ensure that all the people of Somalia can freely participate in the process of national reconciliation," he added.
He also urged the population to remain calm and asked for their cooperation as AMISOM continues to consolidate security within the town.
This leaves Jowhar, 90 kilometres to the north of Mogadishu, as the last remaining stronghold of the extremists in the regions of Banadir, Lower and Middle Shabelle which comprise Sector 1 of AMISOM area of responsibility.
Since the UN Security Council boosted AMISOM troop numbers to over 17,000, the force has been expanding outside Mogadishu and has helped the Somali government by providing a secure environment and recovering more territory, as well as ensuring law, order and justice.