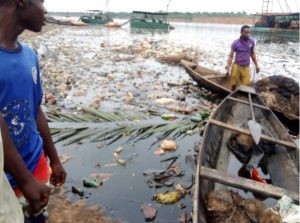 Mkpoikana Udoma
Port Harcourt — A fresh oil spill from a facility operated by the Shell Petroleum Development Company of Nigeria Limited, SPDC has again rocked Bodo, Ogoniland in Gokana Local Government Area of Rivers State, two months after the company recorded massive spills in Okulu River, Eleme, Ogoniland.
The fresh spills which became noticeable last Friday, August 18, 2023, was detected following oil leaks from the Trans Niger Pipeline in Bodo community by the locals.
The cause of the leaks has not yet been determined and the operators of the pipeline, Shell Nigeria, is yet to make an official statement on the spill.
Reacting on the fresh oil spills, the Movement for the Survival of the Ogoni People, MOSOP, who confirmed the incident, expressed worries over the frequency of oil spill occurrences in the Ogoni region.
President of MOSOP, Mr. Fegalo Nsuke, who demanded for an unbiased investigation into the cause of the spill, said Shell swiftly contained the fresh leaks, immediately the incident was reported.
He said, "the frequency of oil spills in the Ogoni area raises questions about the integrity of oil assets in the entire Niger Delta region.
"We understand the spill has been contained and that the containment was prompt and averted serious pollution and the environmental problems that came with similar spills. That is commendable. However, we will expect a transparent and speedy investigation into the spill to enable a proper response that can avert similar cases in future".
The MOSOP leader further called on the people of Bodo community to cooperate with repair works and remediation efforts if and when they are initiated.
"I will urge the people of Bodo community to cooperate with efforts to repair the pipeline as well as any remediation efforts if and when they are initiated. I will urge tolerance, as usual, to allow them to fix the pipelines for our collective safety.
"We do not think they (Shell) will do anything extraordinary which could jeopardize the safety of residents and we believe Shell's presence in this instance will be to fix the faulty pipeline and that should be in our interest. I urge everyone to cooperate with that process and be very vigilant.
"Since August 2022 and today, over five oil spills have been recorded in Bodo community alone. This is the first that will be contained before any major damage is caused. The impact of this spill has been reported to be minimal and the community dwellers also acknowledge that it is the most contained amongst the recent spills in Bodo."
It will be recalled that the people of Ogoni through MOSOP, has led over three decades of resistance against Shell Nigeria in unending years of unacceptable oil drilling operations which left the lands and rivers in Ogoni polluted.
The United Nations Environment Programme in 2007 was commissioned by the Nigeria's government to investigate the oil spills and in 2011, UNEP reported unprecedented levels of pollution including underground water contamination exceeding acceptable WHO standards by 800 percent.
Follow us on twitter