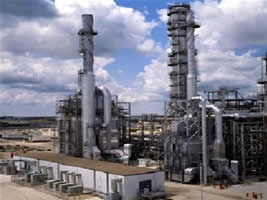 5 September 2011, Sweetcrude, Eket – The Management of Amakpe Refinery in Eket, Akwa Ibom, says about N3.14 billion was required to complete the project and begin operation.
Chief Usua Amanam, the Chief Executive Officer, said the amount included funds that would be used to procure initial stock of crude oil for the first three months of operation.
Amanam, who spoke in an interview with News Agency of Nigeria (NAN), in Eket, disclosed that all fabrication on the refinery had been completed and ready for installation.
He explained that the project suffered setbacks when the Akwa Ibom Government withdrew part of its equity capital, reducing its stake in the refinery from about N1.5 billion to about 981.5 million.
He explained that the partial divestment by the state government slowed down work on the project and resulted in accumulated interests on the loan capital standing at N58.9 million per quarter.
But, he said the Akwa-Ibom government still held 25 percent equity in the $51.9 million (about N7.83 billion) refinery project.
Reiterating that the management of the refinery was committed to the completion and subsequent commencement of refining activities at the 12,000 barrels-per-day (bpd) capacity facility, in spite of funding challenges, he told NAN that when completed, the refinery would create more than 1,000 direct jobs and 5,000 indirect jobs in the state.
"The facility will also help in the development of associated downstream petrochemical projects that will further enhance the economy of the state," he added.
He appealed to the state government to have a rethink on its divestment from the project, saying the action was capable of discouraging private investors to inject additional capital into the project.
Amanam said that a consortium of Nigerian banks led by Sterling Bank and Bank of Industry had accepted to finance the completion of the refinery.
Gov. Godswill Akpabio, had at a business forum in the United States, in August, charged promoters of the refinery to complete the project or refund the state government's investment in it.
The refinery project is on the public-private partnership model between the state and private entrepreneurs from the state and financial institutions.