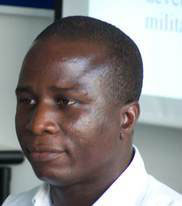 13 July 2012, Sweetcrude, Benin – The Federal Executive Council (FEC) on Wednesday approved the new Petroleum Industry Bill (PIB) transmission to the National Assembly.
The Executive Director of Africa Network for Environment and Economic Justice, ANEEJ, Rev. David Ugolor says: "We commend President Goodluck Jonathan and all members of the Federal Executive Council for coming up with the new Petroleum Industry Bill (PIB) as promised in his January broadcast ending the strikes and protests by organised Labour and Civil Society over fuel subsidy removal.
"We are particularly pleased that the objectives of the bill include to ensure that it becomes more competitive, to promote rapid development of this sector and the assurances that the new bill proposes revolutionary changes which include the unbundling of the NNPC into several companies. Of particular interest to us is the fact that the the interest of the host communities is being addressed with the Bill." Rev. Ugolor notes.
Ugolor further urged the National Assembly to swing into action immediately it receives the Bill and avoid situations of allowing its unnecessary multiplication as characterised the previous effort with the sixth National Assembly.
"We want the National Assembly to draw up a timetable for its speedy passage. The timetable should provide for Public Hearing and other avenues for Civil Society to make inputs into the Bill.
We are, particularly interested in ensuring that the new law makes the industry transparent and accountable to the people of Nigeria," Ugolor further asserts.
"The National Assembly must be on its guard to ensure that the Private oil companies and multi-national institutions operating in the sector do not move in with their money to derail the noble intensions of government and Nigerians on the PIB," warns Mr. Leo
Atakpu, ANEEJ Deputy Director urging members of NASS to learn lessons from the unseen 'banana peels' in the National Assembly that have been pulling down parliamentarians with corrupt tendencies as evident in the power probe, Capital Market probe and the latest being the fuel subsidy probe among others.
"We want to see a Petroleum Industry Law that addresses all major issues buffeting the industry. A Law that would reverse the resource-curse phenomenon that has become the lots of Nigerian oil-bearing communities. We want a Law that would stand the test of time in line with international best instruments that will end corruption and the culture of impunity in the industry.
"We want to see a Petroleum Law that would end the mindless thieving and appropriation of the nation's commonwealth by a few powerful individuals, Mr. Atakpu emphasised. He called on the international community to assist Nigeria to get it right with its oil industry this time around so as to stem the rising poverty rate which has assumed a frightening dimension.
It would be recalled that the Africa Network for Environment and Economic has been consistent since the life of the sixth National Assembly calling for the passage of the Petroleum Industry Bill.