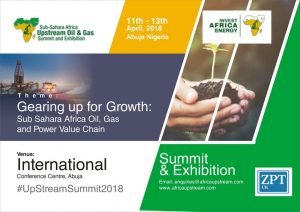 OpeOluwani Akintayo
07 February 2018, Sweetcrude, Lagos – As the industry prepares for the annual Sub-Sahara Oil & Gas Summit & Exhibition scheduled to hold in Abuja, Nigeria from 11th – 13th April 2018, driver of the new engagement economy and social communication platform in Africa, Digitalprwire, has been selected as the official news wire for the event.
Africa is the last true oil and gas frontier with more than 4,200 oil and gas blocks identified. Almost half of these blocks are open, subject to force majeure or in the application phase.
Themed "Gearing up for Growth: Sub-Sahara Oil, Gas and Power Oil Chain'', the annual Sub-Sahara Africa Oil and Gas Summit and Exhibition is a comprehensive industry event dedicated to the Sub-Sahara Africa market and features an exciting programme with best-in-the-business speakers and numerous networking opportunities.
It is expected that the summit and exhibition will attract many key industry players from across Africa and beyond.
The exhibition will provide a veritable opportunity for established oil and gas companies, government agencies, services providers, equipment manufacturers and new entries to interact and showcase their possibilities.
The summit is being organised by Zenith Professional Training (ZPT), a UK firm with several years' of building oil and gas capacity through industry specialised pieces of training in the oil and gas sector.
"We are thrilled to be able to partner with Digitalprwire to bring much-needed media attention to Sub-Sahara Africa Oil and Gas Market via the Upstream Summit," said Dapo Ayoola, Group C.E.O of ZPT.
More than 80% of the 1,300 blocks in North Africa are licensed, while in sub-Saharan Africa it is estimated that only about 30% of 2,900 blocks are licensed.
In the sub-Saharan regions, it is evident that many new opportunities still exist, especially for the exploration and production (E&P) companies that are willing to take risks.
"Digitalprwire understands the importance of engagement beyond the press release and the importance of a listening strategy which is at the core of successful marketing," said Achi Celestine, Founder of Digitalprwire.
"The Sub Sahara Africa Upstream Summit offers us a great opportunity to hear, first hand, what many leading brands and organisations need in order to leverage on key growth areas and emerging value chains in the upstream oil and gas market."