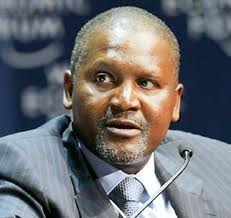 Innocent Anaba
28 June 2012, Sweetcrude, LAGOS — AFRICAN Petroleum PLc, AP, shareholders have asked the Supreme Court to set aside the judgment of the Court of Appeal, Lagos, which made way for Alhaji Aliko Dangote to resume as President of Nigerian Stock Exchange, NSE.
Justice Muhammed Liman of a Federal High Court, Lagos, had nullified Dangote's election as NSE President, after it held that the August 5 election was in clear disobedience to an order of August 4, 2009, directing parties to maintain status quo in a suit by some aggrieved shareholders of AP Plc against Dangote, a stock broking firm, Nova Finance and Securities Limited, and others on allegation that AP's share prices were manipulated.
Dangote had appealed against the lower court decision and urged the Court of Appeal to set aside the ruling of the lower court.
In its judgment, the Court of Appeal set aside the decision of the lower court and held that there was no basis for the decision of the lower court.
The aggrieved AP shareholders, dissatisfied with the appellate court decision, and the resumption of office as NSE President by Dangote, through their counsel, Mr Onyebuchi Aniakor, have asked the apex court to set aside the judgment, contending that the appellate court erred in law, in proceeding in the face of the undisputed facts on the record to hold, that "the order to maintain status quo had no basis. The pleadings, as stated in the originating summons, showed that there was nothing done at that point in the proceedings that could worsen the position of the plaintiffs."
The AP shareholders are further contending that the Court of Appeal erred in law in proceeding, as they so did, to substitute and/or set aside the trial court's exercise of its discretion and to replace same with the lower court's own discretion contrary to the settled legal principles and the law and in the absence of any lawful or justifiable ground.
The shareholders have, meanwhile, asked the Court of Appeal to restrain Alhaji Dangote from howsoever taking any step and/or further step to occupy and/or assume the duties, rights and perquisites of President of NSE, whether in pursuance of the decision of the Court of Appeal delivered in this appeal, or otherwise, pending the hearing and final determination of the appeal at the Supreme Court against the decision of the Court of Appeal in this appeal, delivered on June 15, 2012.