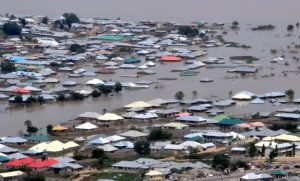 Mkpoikana Udoma
Port Harcourt — A group known as Bayelsa Progressive Vanguard, BPV, has accused the Minister of State for Petroleum Resources, Chief Timipre Sylva, of politicising the relief materials distributed to flood victims in Bayelsa State for political points.
Coordinator of the group, Daniel Amasentei, explained that his investigations revealed that Sylva did not commit a dime to the acquisition of both medical and food relief items he claimed he brought for the victims, rather the items came from the Executive Secretary of the Nigeria Content Development and Management Board, Simbi Wabote.
Amasentei alleged that "the Minister only hijacked the relief materials and advanced his false narratives to score some cheap political points."
"Our investigations revealed that no penny of Sylva was used to acquire any of the relief materials he came to parade in Bayelsa. All the medical and food items brought in the name of Sylva were bought by the Executive Secretary of NCDMB, Simbi Wabote.
"Sylva, in his deceptive style, only hijacked them and presented the materials to unsuspecting members of the public as if he bought them himself. His motive was simply to score cheap political points. Sylva likes playing politics with everything. We were not surprised that Sylva chose a period of disaster and trauma to show his real self."
Amasentei further alleged that instead of allowing all victims of the disaster across party lines to benefit from the medical outreach of Wabote, the minister ensured that only members of his party, the All Progressives Congress received the medical attention.
He said Sylva took the medical outreach to the APC Secretariat in Yenagoa and shut out victims in other political parties, who could have benefitted from the gesture of Wabote.
"Within the same period when leaders from other states visited the Bayelsa Gov. Douye Diri, to sympathise with him, Sylva still came to the state to play politics. He rather chose to have a radio interview purely for campaign purposes.
"He was decked in campaign outfit as he moved to different places campaigning for his candidate while victims of the flood disaster mourned their deceased loved ones and cried over irreversible damage done to them by the disaster.
"Sylva has always been insensitive to the plight of the common people. He is only driven by his political ambition, and this is the reason why he plays politics with everything. He is a seasonal politician, and his season has come. He appears on the scene during every election season and disappears after the season," Amasentei said.
Follow us on twitter