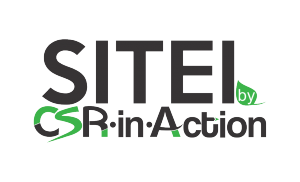 …Hosts SITEI 2018
20 March 2018, Sweetcrude, Lagos – Foremost business sustainability outfit, CSR-in-Action, in partnership with the Nigerian Extractive Industries Transparency Initiative (NEITI), the Federal Ministry of Petroleum Resources (MPR), Federal Ministry of Mines and Steel Development (FMMSD), Miners Association of Nigeria (MAN), Petroleum Technology Association of Nigeria (PETAN), and other stakeholders, has announced the 7th Sustainability in the Extractive Industries (SITEI) Conference and Exhibition slated to hold in Abuja on Monday 21 and Tuesday 22 May, 2018.
Discussions at SITEI 2018 themed 'Using Extractives Technology to Promote Local Refining by 2019: A Sustainable Approach' will revolve around the need to identify and promote areas in which extractive players within Nigeria may facilitate multi-sectoral collaborations to develop, adopt and promote technologies that will lower their running costs, increase profit margins, encourage transparency, curb capital flight, enable growth of the local economy, and reduce environmental degradation and social menace.
The two-day event is structured to focus on various aspects of the extractive industries. Day One which is sub-themed 'How Technology Can Bring About the Stoppage of Fuel Importation by 2019', is focused on oil and gas operations, while Day Two sub-themed 'How Technology Can Boost Mining Productivity', will focus on mining. There will be exhibitions on both days.
SITEI was established in October 2012 in conjunction with the Deputy High Commission of Canada in in Lagos. The annual Conference, hosted by CSR-in-Action, is a platform that gathers key stakeholders in the extractive industry, government, CSOs, business, community, academia and the media in an enabling environment to promote the cross-fertilisation of ideas and global best practices for the benefit of the Nigerian extractive scene.
Dr Ibe Kachikwu had endorsed the meeting when in addressing strategic partnerships for achieving national economic goals related to the sector, he announced that "CSR-in-Action is one of such organisations which we are happy to partner". Oge Modie, Chief of Staff to the Honorable Minister of State for Petroleum Resources and Co-Chair of the SITEI Steering Committee, during the Quarter One Steering Committee meeting, re-stated that commitment when she said that "The Honourable Minister of State for Petroleum Resources, Dr Ibe Kachikwu, expressed his satisfaction with the outcomes of the 2017 SITEI Conference and has reassured the Ministry's partnership and participation in SITEI 2018 and beyond".
Bekeme Masade, Chief Executive of CSR-in-Action and Co-Convener of SITEI, stated that this year's event is geared towards enhancing the use of technology in the sector as well as forging lasting partnerships.  According  to  Masade, "Creating  awareness  for  the  need  to  promote  the  use  of technology in the extractive sector, as well as identifying possible partnership opportunities available in the extractive, science, technology, and communication industries, are at the centre of the conference. Again, this year's event seeks to promote the advancement of conceptual and already existing local technologies through patronage and vocational training, while encouraging co- ownership of local technologies and patents amongst others."
Meka Olowola, Co-Convener and Chairman, SITEI Organising Committee, stressed the importance of technology in fostering greener utilisation of natural resources in order to be relevant in today's economic milieu.
SITEI 2018 will be declared open by Dr Ibe Kachikwu, Honourable Minister of State for Petroleum Resources, on the first day and by Dr Kayode Fayemi, Honourable Minister of Mines and Steel Development, on the final day, as is customary.
The Conference will attract active participation from several ministers in key government sectors including Ogbonnaya Onu, Honourable Minister of Science and Technology, Tim Mohin, Chief Executive, Global Reporting Initiative (GRI); Waziri Adio, Executive Secretary, Nigeria Extractive Industries Transparency International (NEITI); Simbi Wabote, Executive Secretary, Nigeria Content Development and Monitoring Board (NCDMB) and Nsima Ekere, Managing Director, Niger Delta Development Commission (NDDC). The Conference will also feature over 30 seasoned speakers drawn from the sector. Over 500 senior executives from the industry will also be in attendance.