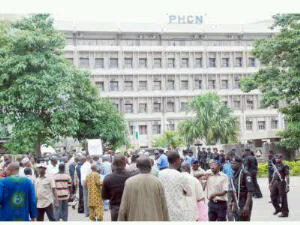 Eluonye Koyegwaehi
09 March 2013, Sweetcrude, Lagos – NATIONAL Union of Electricity Employees (NUEE), has told the Federal Government that 10 percent shares of each of 18 successor companies of the Power Holding Company (PHCN), must be reserved for the PHCN workers, as contained in the National Council on Privatization Act.
The union at its National Executive Council (NEC) meeting in Abuja, said anything short of the 10 shares of each of the companies, would not be accepted and that it must not be 10 percent shares of the government shares.
Addressing representative of the Minister of Power and other management of PHCN at the NEC meeting, General Secretary of NUEE, Comrade Joseph Ajaero, warned any of the companies sold 100 per cent without the 10 per cent shares for the workers according to law, the buyer would be doing so at his or her own risk.
According to him "We want to remind you about the provision of the National Council on Privatisation, NCP, Act, which reserves 10 per cent shares to the workers. As we are talking now, government is selling some of the companies 100 per cent, we are not going to allow that. Our 10 per cent must be kept. Again, for your information, our 10 per cent is not going to be 10 per cent of the remaining government shares, it is the 10 per cent of the whole shares. Anybody that buys any place 100 per cent without reserving our 10 per cent shares, is on its own."
"We agreed for a technical committee which was set up to look at the figure, only for government to announce their own figure (N384billion). Please, help us to tell government that if they go ahead to pay the money, we are going to collect it as bonus. This is not a threat. If they want us to tell them what is done when people are leaving, we will tell them. After calculation of entitlements, you have to write a letter for the person to cross check before anything else. We are saying that we have not met to agree on the amount. We have a technical committee and government appointed Alexander Forbes as its consultant or actuarist.
They met with us one, where they came with the wrong data that gave them the N384 billion. In the data, they gave life expectancy to all of us at 117 years. We all know that life expectancy in Nigeria is not 117 years. The trick is that the longer you live, the less you will be paid. We even pleaded with them to look at the British model which is about 77. We all know that life expectancy in Nigeria is not 70 and above. They went back and administered bio-date forms on workers. Those forms are still be collated. Nobody has worked on them, only for government to announce a figure. That figure, like we said, if paid, it a bonus."
"Another issue is that the people that have retired for the past two and three years, have not been paid their gratuities. The people that died during active service, their dependents have not been paid their benefits and people are suffering. Through the period of darkness, the period of Nnaji, nothing happened.
The period that canker-worms ate the PHCN, you have to tell the new Minister to work hard to see how he could right the wrongs. We think he is not starting too well with the N384 billion announcement and we expect the ministry to correct that. The announcement was made for investors to have confidence in government process for government to sign agreement with them the following morning to show that labour issues had been resolved. Because agreement with investors will be signed the following morning, you quickly went to press today to say you have resolved labour issues and that you are paying tomorrow and investors went on and signed agreement with you."
"We are telling the investors wherever they are all over the world that labour issues in PHCN have not been addressed, talk less of being settled. They have been meeting with Bureau for Public Enterprise, BPE, to hand over Omotosho and Olorunshogo power plants. Hand over ceremonies should continue at the Villa and the BPE, it cannot hold at the plants. If they hand over at BPE, let the investors remain there and run the companies from BPE. This is still not a threat because when you say the "sacked workers" of PHCN to be paid, A B C, you know that in personnel administration, you do not sack people on the pages of newspapers. If this correction is not made from the same ministry, we are going to behave like sacked workers. A sacked worker does not work. We want to believe they were misquoted."
Continuing, he said "the issues of casual workers which has been protracted, has not been solved, some of them have worked for over 10 years. We set up a committee that was regularizing them and suddenly BPE said it is no longer willing to do that. The whole plot is for the remaining 4000 casual workers to lose out totally when eventually these companies are privatized. Nothing will happen until these Nigerians receive justice. We want to say that the old trick of sending soldiers to PHCN Headquarters is becoming outdated. Very soon we are going to ask questions about all these issues and if we do, and you decide to send soldiers, we are telling you that we are familiar with them. We have received injuries from soldiers and some of us have been battered, but Nigeria will not remain the same any day, any staff is killed for asking for his or her right in this sector. Because this is the only season that we are seeing soldiers being used in industrial relations."