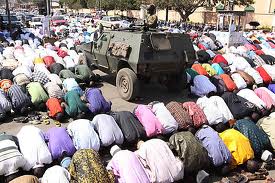 Tony Edike
04 january 2012, sweetcrude, ENUGU – THE Islamic community in Enugu State has condemned the spate of bombings and killings of innocent people in various parts of the country during the recent yuletide describing the incidents as uncivilized and unIslamic.
The community in a letter addressed to Governor Sullivan Chime and signed by the Chairman of the Islamic Council of Chief Alhaji Haruna Sule also said the killings were "criminal, dastardly and a sin against God".
It dissociated itself with the motives of those behind the bomb blasts saying that they were not Muslims as a true Muslims cannot align themselves with any act of crises, killings or any form of breach of the peace.
"We the Muslim community in Enugu State maintains that this act of killing and bombing by a handful of people belonging to one set or group, is not in accordance with Islamic beliefs and teachings. These people are not Muslims and we therefore dissociate ourselves with any act of crises, killing or any form of breach of peace", the letter read in part.
The group thanked the government and people of Enugu State for ensuring that peace and security reigned in the state adding that Muslims in the state had never experienced crises or had cause to regret their stay in the state.