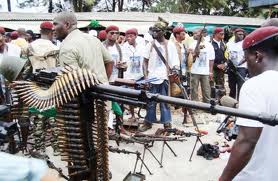 Samuel Oyadongha
28 November 2011, Sweetcrude, Yenagoa – Ex-Militants in the Niger Delta, under the auspices of the 2nd batch extension programme have threatened to return to the creeks following the contiuned refusal of the federal government to integrate them into the amnesty programme.
The group of aggrieved ex militants after a meeting held at the riverside Bomadi community in Delta State issued a fresh seven day ultimatum to the federal government to recognized them in the interest of the prevailing peace in the region.
Chairman of the group, General Julius Joseph said they have agreed in principle that the federal government is deliberately delaying their inclusion into the 2nd batch after collecting over seventy thousands arms and ammunition from them.
The youths said the refusal of the government to integrate them into the programme is spurring them back to the creeks where pipeline vandalization/illegal bunkering is the order of the day.
He said the seven days ultimatum, starting from November 26, 2011 to December 3, 2011 becomes necessary because the government is not living up to their expectation.
"If all our genuine processes discussed were adopted all ex militant groups could have been trained and absorbed by various companies, but because the government is insincere to our plights the youths are thinking of going back to the creeks," he said.
Continuing, he said, "the failure and non implementation of the federal government promises concerning the 2nd Batch amnesty programme has forced many to resort to self employment to survive through illegal bunkering and local refining of the crude oil."
In order to curb the illegal refinery business in the creek he called on the federal government to absorb/include all batches of Ex-Militants into the amnesty programme, thus acting as a replacement job for the youth.
Joseph all urged the multinational oil companies and the NNPC to relocate their adminstrative headquarters to Bayelsa with a view to engaging the army of unemployed youths.