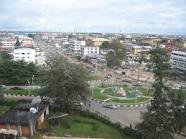 Chidi Nkwopara
20 September 2012, Sweetcrude, OWERRI – THE scarcity of premium motor spirit, PMS, or petrol, which started last week in Imo State, has worsened, as motorists are now forced to pay between N115- N120 per litre.
Black market sellers of the product have taken over several major roads in Owerri metropolis, while some filling stations had hectic time trying to contend with the number of people struggling to purchase the now elusive product.
Sweetcrude gathered that even the mega station operated by Nigerian National Petroleum Corporation, NNPC, ran out of the product, yesterday and none of the staff was prepared to talk on the issue.
"It is our duty to sell the product to our customers if we have it to dispense. It is not true that we are hoarding fuel in this station. The truth is that we do not have petrol for now," a pump attendant told Sweetcrude on condition of anonymity.
The situation appeared worse in local government areas outside the state capital, as a good number of the filling stations claimed they had run out of petrol, while the few that opened for business failed to sell at the approved N97.