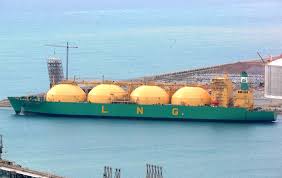 04 August 2014, News Wires –   The Ghanaian subsidiary of Quantum Pacific, the industrial investment group owned by Israeli billionaire Idan Ofer, has signed a deal with Golar LNG to build a $500 million liquefied natural gas import terminal.
The facility, to be situated offshore from the eastern port city of Tema, will provide gas directly to the state-run Volta River Authority (VRA) by mid-2016 to boost power generation, Reuters quoted, chief executive of Quantum Power Ghana Gas Don Ackah as saying.
West Africa's Ghana is grappling with a power crisis caused by the frequent breakdown of ageing equipment and shortage of funds to purchase light crude for thermal generation. The World Bank says the situation could worsen unless authorities overhaul the sector to attract new investors.
Ackah told Reuters President John Mahama, who has instructed his economic team to provide cheaper alternatives to light oil for power generation, endorsed the Tema LNG project.
The VRA says it spends about $20 million every fortnight on crude purchases, draining the coffers of a country already struggling to cope with a mounting budget deficit.
"A lot of work has already been done with payments committed to parts of the Tema LNG project. We are now aiming to complete all government approvals and secure gas supply and sales agreements for a final investment decision in the last quarter of this year," Ackah told Reuters.
Under the deal, Bermuda-headquartered Golar LNG will provide an offshore floating storage and regasification unit. Talks are also underway with French oil services company Technip to construct subsea and onshore pipeline networks to deliver gas to Tema, he said.
The floating unit, currently being constructed by Samsung Heavy Industries in South Korea, will have the capacity to deliver at least 250 million cubic feet of LNG per day, or 1.75 million tonnes annually, Ackah said.
He said Quantum Power Ghana was in talks with global oil companies, including BP, for the supply of natural gas.
In addition, the Ghanaian government said it planned a state-to-state supply arrangement with Qatar for LNG to be delivered to the terminal.
"The government is only playing a facilitating role to get gas at a cheaper cost for consumers," Ackah added.
– Upstream