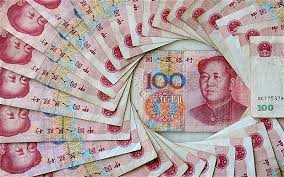 New Delhi — Indian refiners have begun paying for some oil imports from Russia in Chinese yuan, sources with direct knowledge of the matter said, as Western sanctions force Moscow and its customers to find alternatives to the dollar for settling payments.
Western punishments over Russia's invasion of Ukraine have shifted global trade flows for its top export, with India emerging as the largest buyer of seaborne Russian oil even as it casts about for how to pay for it amid shifting sanctions.
The U.S. dollar has long been the main global oil currency, including for purchases by India, but now the yuan is playing an increasingly important role in Russia's financial system because Moscow has been frozen out of the dollar and euro financial networks by international sanctions.
China has also shifted to the yuan for most of its energy imports from Russia, which overtook Saudi Arabia to become China's top crude supplier in the first quarter this year.
"Some refiners are paying in other currencies like yuan if banks are not willing to settle trade in dollars," said an Indian government source.
Indian Oil Corp, the country's biggest buyer of Russian crude oil, in June became the first state refiner to pay for some Russian purchases in yuan, three sources familiar with the matter said.
At least two of India's three private refiners are also paying for some Russian imports in yuan, two other sources said.
All the sources declined to be named because of the sensitivity of the matter. None of India's private refiners – Reliance Industries Ltd, Russia-backed Nayara Energy and HPCL Mittal Energy Ltd – responded to requests for comment. Indian Oil also did not reply to a request for comment.
It could not immediately be determined how much Russian oil Indian refiners have bought with yuan, although Indian Oil has paid in yuan for multiple cargoes, sources said.
The rise in yuan payments has given a boost to Beijing's efforts to internationalise its currency, with Chinese banks promoting its use specifically for Russian oil trade.
Since the imposition of sanctions on Moscow, Indian refiners have mostly bought Russian crude from Dubai-based traders and Russian oil companies such as Rosneft, the Litasco unit of Russian oil major Lukoil, and Gazprom Neft, according to shipping data compiled by Reuters.
Indian refiners have also settled some non-dollar payments for Russian oil in the United Arab Emirates' dirham, sources have said.
"First preference is to pay in dollars but refiners sometimes pay in other currencies such as dirham and yuan when sellers ask them," said the government source, who did not elaborate further and declined to identify any Indian companies paying in yuan for Russian oil.
India's oil and finance ministries, which had previously been trying to convince Russia to accept rupees for oil payments, did not respond to requests for comments.
Reuters reported in March, citing government officials and banking sources, that India had asked banks and traders to avoid using the yuan to pay for Russian imports because of long-running political differences with China. It was not immediately clear whether recent purchases represent a change in that view.
India's imports from Russia rose to a record in May, with Russian crude oil accounting for 40% of India's overall oil imports compared with 16.5% a year earlier, denting purchases from Iraq and Saudi Arabia.
SANCTIONS MINEFIELD
While Western sanctions against Moscow are not recognised by India and its purchases of Russian oil may not violate them, Indian banks are wary of clearing payments for such imports.
In May, State Bank of India, the country's top lender and a key banker for state refiners, rejected IOC's planned payment in dollars for a cargo delivered by Rosneft, two sources said.
The cargo was loaded on tanker NS Bora, handled by Dubai-based Sun Ship Management, an entity connected to Russia's largest state shipping company, Sovcomflot , which the European Union sanctioned in February and the United Kingdom in May.
In June, IOC used ICICI Bank, a private-sector Indian lender, to settle this trade with Rosneft by paying in yuan to Bank of China , two sources with direct knowledge of the matter said. One private refiner has also been using the same mechanism for payments for Russian oil, one of the sources said.
Since then, IOC has used the same method to pay with yuan for other cargoes from Rosneft, one of the sources with direct knowledge of the matter said.
"Whenever IOC will face problems it would push for payment in yuan," the person said, adding that IOC had asked Rosneft to consider supplying oil in vessels not managed by sanctioned entities.
Rosneft did not reply to a request for comment.
Another state refiner, Bharat Petroleum Corp Ltd, is also exploring yuan payment for Russian oil, a separate source said.
"Many traders (sellers) are insisting for yuan payments," the source said.
BPCL, ICICI, State Bank of India and Bank of China did not respond to requests for comment.
By Nidhi Verma
Reporting by Nidhi Verma; Editing by Tony Munroe and Tom Hogue – Reuters
Follow us on twitter