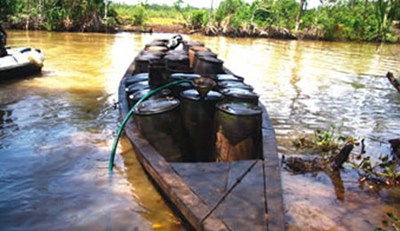 Lucky Omas
11 July 2018, Sweetcrude, Warri — The newly-elected chairman of the Independent Petroleum Marketers Association of Nigeria, IPMAN, Warri Zone, Mr. Zino Onaemoro, has pledged to work with security agencies to flush out oil thieves in Delta State.
He has also ruled out the creation of artificial scarcity of petroleum products by IPMAN members.
Onaemoro, who gave the assurance in Warri, after the inauguration of the newly-elected executive council members, said: "We will support security agencies to win the war against oil theft.
"We all know the damage oil theft is causing to our economy as a country. Like every other responsible Nigerian we will support every move to win the war.
"The new IPMAN will also make sure that we get our due from PPMC. It will no longer be business as usual", he said.
He also said he would set up a task force to guard against the sale of adulterated petroleum products in the state.
Speaking earlier on the day of his election, Onaemoro, in his acceptance speech, promised to tackle challenges facing IPMAN members in the state and called on the Pipelines and Product Marketing Company, PPMC, to stop sidetracking IPMAN members in the allocation of petroleum products.
He said he would resist any move by the PPMC to shortchange IPMAN members in Delta State.
"We will not tolerate any situation where PPMC will shortchange our members in the allocation of products, where they allocate the products to themselves," he said.