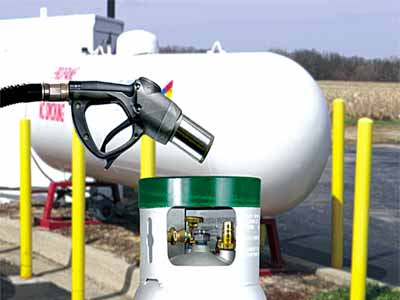 OpeOluwani Akintayo
Lagos — President Mohammadu Buhari's efforts at promoting more use of gas in Nigeria may not be achieving its targeted goal, as price of Liquefied Petroleum Gas also known as cooking gas has surged to a record high across the country, forcing some consumers to go in search of alternatives.
Findings by SweetcrudeReports showed that a 12.5kg cylinder which was sold in Lagos for atleast N4, 500 in June, is now being sold at between N5500-N6000 at different parts of the state.
Riding particularly on the back of recent devaluation of the naira, calculation puts per kilogramme of the product at N500.
In May, the Central Bank of Nigeria devalued the naira as it adopted the NAFEX exchange rate of N410.25 per dollar as its official exchange rate, raising the naira to as high as 503/$1 at the parallel market.
The Buhari administration had declared year 2020 and beyond a decade of gas in a bid to draw citizens attention to embracing more use of gas.
Nigeria's gas reserves recently hit 206.53 trillion cubic feet, the Department of Petroleum Resources, DPR's Director of DPR, Auwalu Sarki had declared during the recently held Nigeria International Petroleum Summit in Abuja.
Contributions to the country's reserve grew from 10 million barrels in 2005 to about 62 million barrels in 2020, Auwalu said.
Data from the National Bureau of Statistics, NBS said as of June, a 12.5kg cooking gas rose to N4, 289 from N4, 288 in May. As of June, states with the lowest average price for 12.5kg LPG were Zamfara (N3, 736), Kaduna (N3,841), and Imo (N3, 911), while those with highest 12.5kg price were Enugu (N4, 811), Abuja (N4, 780), and Cross River (N4, 650).
With surging of prices of cooking gas, more Nigerians, especially those in the rural areas that are the major target of President Buhari's gas campaign, SweetcrudeReports gathered, are now being forced to embrace other alternative means of cooking such as kerosene and coal.
Price of 20 metric tonnes of LPG sold to marketers in the country as of January had risen by over 29 percent to as high as N5.5m from N4.25m last November.
The price of 20MT of LPG sold by terminal operators and importers surged by 30.91 percent in six months to N7.2m on Thursday, according to LPG in Nigeria, an advocacy organisation championing the use of the fuel in the country.
A gas plant in Lagos refilled a 12.5kg cylinder for LPG for N5,200 on July 17, up from N4,500 on June 17 and N3,200 in November/December 2020.
Several other retailers in Lagos have also fixed price for refilling a 12.5kg cylinder at between N5,200 and N5,600.
A retailer at Ogba refilled 3kg and 5kg cylinders for N1,500 and N2,500 respectively.
The National Chairman of Liquefied Petroleum Gas Retailers Branch of NUPENG, Mr. Chika Umudu blamed the increase on the country's dependence on LPG importation.
"As the dollar is appreciating against the naira, the price of LPG is increasing," he added.
He advised that the Nigerian LNG Limited, which accounts for more than 40 percent of the LPG supply volumes in the country, should be supplying the domestic market in accordance to the demand, rather than having a fixed quantity per annum.
The federal government recently began cooking gas use campaign in 12 states.
The Petroleum Equalisation Fund, PEF also said it plans to subsidise cooking gas transportation.
According to the Executive Secretary/Chief Executive Officer, Nigerian Association of LPG Marketers, Mr Bassey Essien, with 20MT of LPG being sold for over N7m, marketers were spending what they used in buying 40MT some months ago to get 20MT.
"We are not happy about the price hike," he said, stressing the need for frequent supply of LPG by the NLNG. "It is only one vessel they (NLNG) have, and it supplies Lagos and Port Harcourt; so the replacement cycle is longer," he added.
According to him, since the country depends more on imports for the commodity, the demand for scarce foreign exchange by marketers to import the product will cause price hikes.
As a means of pumping more LPG into the market and reducing price, the NLNG said in September that its board of directors had approved an increase in its dedicated volume of LPG supplied to the domestic market from 350,000 metric tonnes per annum to 450,000 mtpa.
However, the market is yet to witness drop in retail prices despite the promised increase by NLNG.