OpeOluwani Akintayo
Lagos — The Nigerian Association of Petroleum Explorationists, NAPE has said it would focus on technology challenges in Nigeria's oil and gas sector at its forthcoming 38th Annual International Conference & Exhibition, AICE scheduled to hold in Lagos from 15th-19th November, 2020.
President, FNAPE, Alex Traka made the revelation while briefing the media today on the lineup of events for the yearly event.
He stressed that technology is the heart of all the significant achievements in the oil and gas industry, adding that the conference would deliberate on the petroleum business and the regulatory environment with a view to addressing the challenges of exploration and production in the onshore, offshore and Nigeria's frontier basins, as well as government and regulatory agencies' support and funding, cash call exit and incentives , new fiscal regimes, PIB, NIPEX operations, licensing rounds, refining capacity mid-stream infrastructure and the domestic gas market.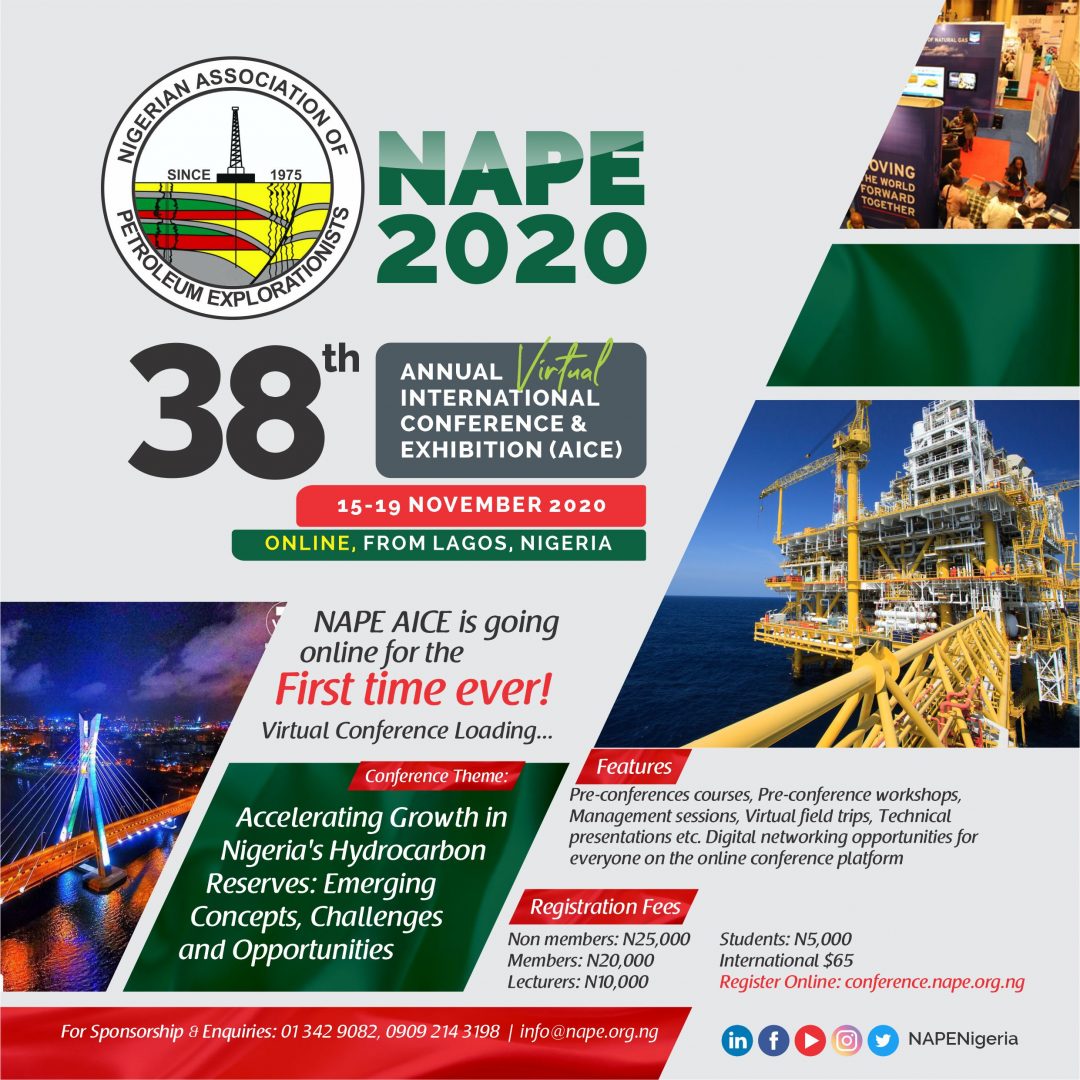 "The way hydrocarbon is discovered, developed and produced, has been impacted by evolutionary technologies that have emerged since the Drake well of 1859. But the challenge is how far Nigeria has travelled down the technology road," he said. .
The Conference will also be beaming its searchlight on new technology applications in exploration and production using big data, digitalisation, data analytics, artificial intelligence opportunities among other issues.
Participants at the Conference will also be discussing the impact of renewable and unconventional energy resources in the oil and gas industry as well as grooming the next generation of E&P professionals.
The conference will host high-leveled industry practitioners, key personnel in government and the academia, delivering technical papers on seven sub-themes namely: Accelerating Nigeria's Reserves Growth Opportunities, Novel Concepts and Approaches in Geophysics, Petroleum System Studies and Integrated Reservoir Modeling, Emerging Technologies and Current Applications in Exploration and Production, Energy Mix and Transition, Health, Safety, Security and Environment, and Talent Management, Capacity Building and the Next Generation of E & P Leaders.
Vice President, Yemi Osinbajo will be the special guest of honour at this year's conference, while Chief Dr. Tunde Afolabi, MFR, FNAPE and Chairman/CEO OF AMNI International Petroleum Development Company Limited is expected to deliver the Keynote paper.
Our members have so much gas to meet Nigeria's industrial needs- NAPE
On growing the domestic gas market in line with the Minister for State Petroleum Resources, Timipre Sylva declaring year 2020 and beyond a year of gas, he said its members have enough gas to meet the industrial needs of Nigeria.
According to Tarka, its members have the required technology adding that infrastructures are being put in place for members to meet local needs in line with the federal government initiative.
"Our members have been exploring for gas years before the declaration was made by the Minister. Already, gas wells in their thousands have been dug before now. So what we will do is go back and reopen them so we don't need new exploration for now. We already have so much gas volume. All we need now is the equipment to lift those gas from the wells, as much as Nigeria needs for industrialisation", he said.
The Association maintained that oil and gas will continue to be fuels of choice for the unforeseeable future and conventional and unconventional hydrocarbons are likely to remain the main component of the energy mix needed to meet the growing global energy demand in the next five decades. "In the coming period, technological innovations will be critical not only in ensuring the supply of affordable hydrocarbons, but in mitigating the environmental impact of hydrocarbon exploration, production and utilisation", he said.
While giving updates on the frontier basins particularly the Benue Trough, Tarka said the federal government will continue to pursue vigorous exploration with the best of technology.
According to him, exploring for oil will increase the national reserve, maintaining that there are prospects of reaching oil in commercial quantity in the Trough.
Themed "Accelerating Growth in Nigeria's Hydrocarbon Reserves: Emerging Concepts, Challenges and Opportunities", this year's conference will hold both virtually and physically in Lagos, and will observe international COVID-19 protocols to protect its members.
"The challenges of COVID19 made us consider holding this year's conference both online and physically to protect our members who reside here in Nigeria and outside the country. We are expecting over 1000 online attendants and about 30 physically. All protocols of washing of hands, wearing of facemask and social distancing will be maintained at the physical venue," he said.