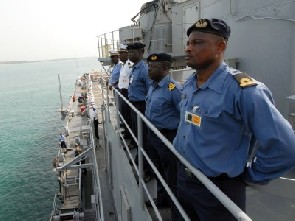 24 August 2013, Lagos – Irked by the alarming insecurity in Africa's maritime domain, the Nigerian Navy, NN, has disclosed its resolve to take the lead in the African continent to address the worrisome issue with a view to proffering means of building infrastructure and capacity towards combating the scourge.
Activities of pirates in the Gulf of Guinea as captured by a recent study of the advocacy group in June 2013, cost the world economy between 740m Dollars and 950 m Dollars last year,with indication of a possible rise this year, if proper measures were not taken to check excesses of pirates in the region.
To this end, the Flag Officer Commanding, FOC Western Naval Command, Rear Admiral Ibok-Ette Ibas, said the Nigerian Navy was partnering with the International Quality and Productivity Centre,IQPC to organise a defense and security conference tagged Offshore Patrol Vessel Africa.
Briefing newsmen on the conference billed for August 27 to 29 in Lagos, Ibas explained that  being the  first of its kind in Africa,  it would  aim at addressing the teething insecurity issues as well as to examine the unique maritime insecurity challenges in African countries in the 21st century.
He noted  that  the African continent was increasingly witnessing progressive surge in offshore activities across the broad spectrum of maritime trade and business, thereby portraying an exciting market for the future. He however, expressed regrets that maritime insecurity and illegal activities in the maritime domain was threatening the continent's potential.
"The magnitude of these threats is aptly captured by a study of the advocacy group tagged 'Oceans beyond Piracy' in June 2013 which estimated that piracy in the gulf of Guinea cost the world economy between $740 million and $950m last year and this cost is expected to rise this year".
– Evelyn Usman, Vanguard