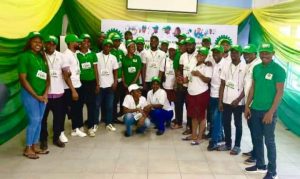 Mkpoikana Udoma
Port Harcourt — The Nigerian Content Development and Monitoring Board has trained 500 youths in Cross River State on solar power installation and maintenance, as part of measures to mitigate unreliability of electric power and position the youths for opportunities in the renewable energy space.
The training programme, according to NCDMB, was organized as part of the Board's youth empowerment and Human Capacity Building initiatives and was conducted in three locations in the state namely, Calabar, Bekwarra and Ogoja and it lasted for six months.
Speaking at the closing ceremony in Calabar, the Director, Planning, Research and Statistics at NCDMB, Mr. Abdulmalik Halilu, hinted that the Board initiated the programme to create employment opportunities in the country, generate wealth and empower the youths to contribute to the economy of the nation.
Halilu observed that technology and skill acquisition in trades and agriculture were some of the high-impact economic sectors, noting that the unreliability of electric power was a major challenge affecting citizens' quality of life and the success of business enterprises in Nigeria and Africa, hence the clamour for renewable energy solutions to become a major part of the energy mix.
He stated that it was important for Nigerians to prepare and position themselves for opportunities in the renewable energy space, particularly because the nation enjoys abundant sunlight. He harped that solar power installation and maintenance training provided an alternative source of power at homes and offices to support the national power grid in addition to providing job opportunities for the youths.
"As part of the end-to-end planning for the programme, the Board has concluded arrangements to register cooperative societies for the trainees as well as provide shops where they would practice their trades.
"The trainees will commence business as registration of cooperatives and the provision of shops in groups for the graduates has been done. This empowerment programme was aimed at providing lifelong support to youths that desired to be empowered in high impact economic sectors including oil and gas, Information and Communication Technology, Agriculture, construction, and others.
"I am confident that these graduates here are a pool of qualified talented youth equipped with capacities and capabilities to trouble shoot issues, proffer solutions, assemble, Install and Maintain Solar projects that are currently largely import dependent."
He implored Nigerian youths to take advantage of the Nigerian Oil and Gas Industry Joint Qualification System (NOGICJQS), adding that the platform is used to select participants for human capacity building interventions and employment opportunities whenever they are available.
Also, a former Chairman, House of Reps Committee on Nigerian Content Development, Hon. Legor Idagbo, represented by Mr. Ted Inyang, commended NCDMB for training youths in Cross River state and congratulated the trainees, noting that energy transition is going to be the new norm for the Nigerians.