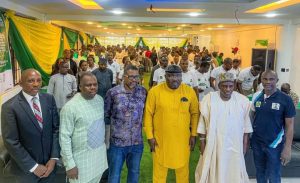 Mkpoikana Udoma
Port Harcourt — As a way of reducing the high rate of youth unemployment in Bayelsa State, the Nigerian Content Development and Monitoring Board, NCDMB has launched the training of 500 youths on mobile phone repairs, software and entrepreneurship development.
Recall that the Board has held similar trainings in some states across country, including Kano, Yobe, Cross River and Bauchi States.
The programme, according to NCDMB, will run for eight weeks, including classroom and apprenticeship, after which the trainees would be provided hardware repair tools, shops and financial support by the Board to help them start their careers.
Speaking at the kick-off ceremony in Yenagoa, the Executive Secretary of NCDMB, Engr. Simbi Kesiye Wabote, described the initiative as a strategic intervention between the Board and the Bayelsa State Government.
According to him, "We need to be very strategic in terms of how we create employment."
Wabote, represented by the General Manager, Research, Statistics & Development, Mr. Abdulmalik Halilu, explained that the training was a key initiative under the Technical Capacity Development Pillar of the Nigerian Content 10-year strategic roadmap and the intent is to build the capacities of young Nigerians in oil and gas and ancillary sectors, making them self-reliant and self-employed.
He added that ancillary sectors such as Information and Communication Technology, Agriculture, construction, and others have the capacity to create millions of jobs for young Nigerians.
"GSM phone has become a critical tool for business and education, especially in the e-commerce and knowledge-based economy. The value chain for mobile telephone is extensive, and it includes the production of the phone itself, marketing, and installation of applications. This is because phones develop faults regularly and the owners often become desperate to fix them, hence the relevant skills for repairs and software are most vital.
"The training for the 500 youths will be in stages. Inauguration and classroom training constitute stage one, with focus on the fundamentals of a phone – what it is, the anatomy and procedure for fixing phones.
"Stage two is apprenticeship, during which trainees would be attached to Mobile Phone Super Users who operate standard repair shops. At the end of the training, a competency test is to be conducted by instructors.
"In addition to the start-up packs promised, trainees are to receive a stipend of N30,000 monthly, and N60,000 at exit."
The Bayelsa State Governor, Douye Diri, represented by the State Commissioner for Labour, Employment and Productivity, Mr. Stanley Braboke, commended the NCDMB for the initiative and charged the trainees to make the best use of the opportunity.
The governor said the Prosperity Agenda of the current administration in the state places a premium on vocational training and skills acquisition which could make beneficiaries income earners and self-reliant.
"Phones are everywhere in Bayelsa State, and they develop faults. The NCDMB and State Government are determined that all local government areas should benefit from the youth training programme both in the selection of trainees and in access to mobile phone repair services."
Follow us on twitter