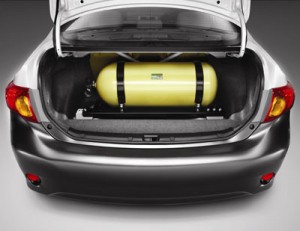 Simon Ebegbeulem
& Ogieva Oyemwenosa
22 July 2012, Sweetcrude, BENIN CITY –THE use of condensed natural gas, CNG, instead of petrol in powering vehicles could fetch the Federal Government over N200billion from every one million cars converted into CNG from petrol engine, says the Managing Director, NIPCO Nigeria Limited, Venkataramen Venkatapathy.
Consequently, the Federal Government, Saturday expressed its readiness to partner with the private sector to explore the alternative source of powering vehicles and for other industrial uses in Nigeria.
Speaking to journalists at a familiarisation tour of facilities of one its partners, the Green Gas Company in Benin City, the Group Executive Director, Oil and Gas of the Nigerian National Petroleum Company, NNPC, Dr. David Ige, disclosed that one of the key agenda of the President Jonathan transformation policy was the exploration of abundant natural gas reserves for the benefit of the people.
He said the initiative, a joint venture between NIPCO Nigeria Limited and the Nigeria Gas Company, NGC, was to leverage natural gas in vehicular use as it is "significantly cheaper, more environmental friendly, while drivers can save between N1,000 and N2,000 a day if they run on compressed natural gas".
According to him, "The first thing to understand is that Nigeria, like you know, have a lot of natural gas and there is no reason why we shouldn't use the gas reserve for the betterment of our people, either for power, industrial or vehicular use and that is one of the key agenda of the president in this transformation process.
"You noticed that we have been doing a lot on gas to power, gas to industrialization and more importantly, this is what affects the ordinary man on the street, the vehicular use. The benefit of that is that it is significantly cheaper. You can see what the drivers here have been saying, these drivers can save up to N1000 to N2000 per day on petrol cost and we expect that over time that saving could be able to pass to the passenger. An average passenger in Nigeria can move around at a relatively cheaper rate than they were with petrol."
Earlier, Managing Director, NIPCO, Venkataramen Venkatapathy, disclosed that for every one million cars or vehicles, if converted to the use of CNG, Nigeria would save close to 1.25 million dollars (200 billion naira) on oil subsidy.
"We are working to promote natural gas as an alternative to fuel because it is abundantly available in Nigeria, so it can substitute petrol and in that case, you don't need to import PMS, it can displace the PMS".