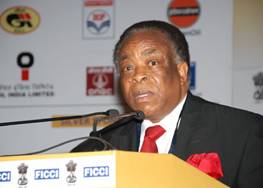 11 June 2012, Sweetcrude, ABUJA – NIGERIA has so far reaped over $9 billion from its exports of the liquefied natural gas (LNG), according to chairman of Emerald Energy Resources Limited, Dr Emmanuel Egbogah.
A former Special Adviser on Petroleum Matters to Nigeria's late President Umaru Yar'Adua, said the money accrued from export of the product between 2004 and date.
He made the disclosure during a lecture delivered at the inauguration of Abuja chapter of the Nigerian Association of Petroleum Explorationists (NAPE).
He said in the lecture entitled: Nigeria oil and gas: Yesterday, today and a guide for the future, that besides the $9 billion the government has earned as its shares from the operating six trains of the Nigeria Liquefied Natural Gas (NLNG), industry watchers are expecting further revenue of over $8 billion as foreign direct investment (FDI) on the construction of the planned Train 7.
He added that the NLNG has contributed significantly to the reduction of gas flaring in the country and also contributes over $9 billion to the national gross domestic product (GDP) yearly.
He said: "Nigeria accounts for about eight per cent of the global liquefied natural gas (LNG) supplies. The NLNG's six-train facility has a capacity for 22 million tonnes per annum (mpta) of LNG, and up to 5mtpa of natural gas liquids (NGL).
"Since October 1999 when the first LNG cargo was loaded for delivery to France and following a final investment decision by the shareholders in 1995, Nigeria LNG has brought significant value to Nigeria. In line with government's vision of generating as much revenue from gas as from oil, NLNG has successfully pioneered gas monetisation.
"It is the most significant arrow-head in government's quest to end gas flaring in the country with the attendant environmental benefits. It is also the biggest single contributor efforts to diversify the Nigerian economy and income portfolio.
"The success, which greeted the NLNG, has accelerated the execution of plans now at an advanced stage, for the building of the seventh train. The NLNG project grew in less than 10 years of production to a six-train operation producing 22 mtpa of LNG, with progressive plans for a seventh train intended to raise production to about 30 mtpa of LNG."