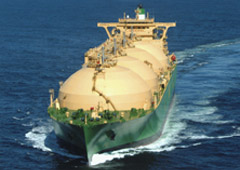 *NNPC selects two Japanese firms for Brass LNG project
19 September 2012, Sweetcrude, Abuja – Nigeria's immense gas resources took global attention in Tokyo, Japan yesterday at the maiden edition of the LNG Producers –Consumers Conference organised by the Japanese Government to create a mutually beneficial forum for the World's major producers and largest consumer cum importer of liquefied natural gas.
Addressing the forum, the Group Managing Director of the Nigerian National Petroleum Corporation, Andrew Yakubu stated that though Nigeria entered the LNG market a bit late, the country has overtime emerged a reliable supplier in the global liquefied natural gas market.
Presenting a paper titled: "Prospects of LNG Supply from Nigeria and NNPC LNG Sales Strategy," the NNPC GMD disclosed that as at last count the Country holds the record for the fastest growing LNG production capacity in the world.
"From a modest two train base LNG project of 8 million tons per annum (mtpa) in 1999 to the current six operating train capacity of 22 mtpa. In 2011, the six trains exported about 22 mtpa of LNG representing about 10% of world production. Other major LNG projects (Brass & OK LNG) are in different stages of development. Final Investment Decision (FID) on the Brass LNG project comprising two trains of 10 mtpa is planned for first quarter, 2013," Yakubu said.
He noted that the overall target is to immediately take FID on the Brass LNG's 10mtpa project which will be closely followed by FID on the NLNG's 7th train of 7.8mtpa, and thereafter OKLNG.
"On completion of these LNG projects Nigeria's LNG production capacity will be over 52 mtpa," he said.
The GMD also announced the activation of a new LNG Sales Strategy for upcoming LNG projects with the following basic components namely; to capture & retain high value LNG markets globally including Asia Pacific markets like Japan and Participate in the downstream segment of the LNG value chain
"Historically, Nigeria's marketing effort was geared towards meeting the demand in the Atlantic Basin. However, the changing market conditions in the Atlantic Basin have compelled a broadening of our sales strategy to include the competitive Asia market,'' he said.
Yakubu noted that in recognition of the new commercial reality and the need for market diversification, NNPC has developed an appropriate strategy that will provide a platform through which LNG off-takers in the Pacific region could be involved in green field LNG projects such as the Brass and OK LNG projects.
Under this arrangement interested firms will be encouraged to invest directly in these new projects both as strategic investors as well as long-term LNG off-takers thereby creating opportunities for base-load LNG sales contracts to Asia.
Thus it is envisaged for instance, that the Brass LNG project currently provides a viable opportunity to increase LNG supply from Nigeria to Japan.
"As a country, Nigeria is committed to supporting Japan's aspirations on energy security. In pursuance of this development, two Japanese Corporations (LNG Japan and Itochu) have been selected as strategic investors to NNPC in the Brass LNG project, not only as equity stake holders, but joint off-taker of LNG volumes—significant portion of which is expected to be delivered to Japan," the NNPC GMD announced.
He also informed that to ensure success of this initiative, the two Japanese entities are to be supported by the Japanese Bank for International Cooperation, JBIC in providing project financing.
"If this is successful, it will further improve contribution of LNG supply from Nigeria to Japan for the mutual benefit of both countries. It is therefore imperative for JBIC to provide the needed support that will ensure the attainment of this goal,'' the NNPC GMD enthused.
He surmised that based on the foregoing there is no doubt that Nigeria can competitively deliver LNG in both the Atlantic and Pacific Basins based on its resource endowments, geographical location, upcoming projects as well as the country's commitment and track record of being a reliable supplier of LNG.