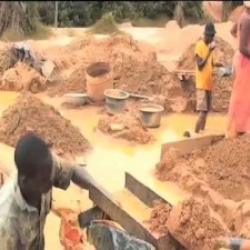 30 October 2012, Sweetcrude, ABUJA – NIGERIA is set to launch by December this year, a road map for solid minerals development, with the aim of boosting mining activities in the nation's minerals and metals sector, Minister of Mines and Steel Development, Musa Mohammed Sada, has said.
Disclosing this at his meeting with a delegation of mining investors from Canada led by the Canadian High Commissioner to Nigeria, Chris Cooter in his office, he said: "With the recent discussion on the road map for solid mineral development, we are going to have lots of activities in the sector.
"The roadmap for solid minerals development will give greater opportunities for local and foreign investors to explore the enormous potentials of Nigeria's minerals and metals sector".
He stated that the government was committed to the opening of funding windows for the minerals and metals sector which would be used to upgrade the acquisition of geosciences data among other things in order to attract potentials investors to the sector.
An institutional framework such as the establishment of the Mining Cadastre Office was already in place to administer mining leases and enable certification of reputable mining investors, the minister added.
According to him, the country had a large number of people with mining leases, exploration licenses among others, but lack adequate funding and right technical skills to move forward.
He said he was optimistic of having companies with mining services in the country working towards the development of the minerals and metals sector.
He also noted that the federal government was passionate about the Canadian firms in the development of the minerals and metals sector, as most of the consultancy services like the interpretation of geosciences data for the country, inputs into the Nigerian Minerals and Mining Act of 2007 were carried out by their firms.
#