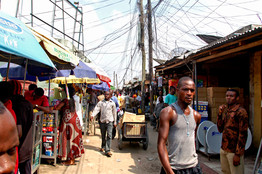 25 October 2011, Sweetcrude, Abuja – Workers of the Power Holding Company of Nigeria (PHCN) have issued an October 31 deadline to government and the management of the company to pay 50 per cent approved salary increment or risk industrial unrest.
In separate letters to PHCN's managing director, the two in-house unions – National Union of Electricity Employees (NUEE) and its Senior Staff Association of Electricity and Allied Companies (SSAEAC) – lamented that the new pay package ought to have begun since June, but three months after, nothing had happened.
Leaders of NUEE and SSAEAC said they were no longer in a position to restrain the workers after the expiration of the ultimatum.
NUEE in a letter by its General Secretary, Mr. Joe Ajaero said: "Workers in the industry have flooded our secretariat with complaints of non-reflection of the per cent salary increase in their September 2011 salary as previously promised by government.
"We are amazed at this unwarranted development because government made it clear at our maiden negotiation meeting, in Abuja on May 19, 2011 that enough fund had been set aside to take care of all financial implications emanating from the negotiations.
"The non-implementation of this salary increase clearly suggests to us that management and government were only paying lip service to the spirit of tripatism and social dialogue. In view of this mistrust deliberately created by government, we cannot but carry out destiny in our hands to salvage our situation." "We, therefore, demand that the salary increase including the arrears from June 1, 2011 be paid to workers in the industry not later than October 31, 2011. We had waited enough. At the expiration of this two weeks notice, the union would not guarantee industrial peace in the sector," it added.