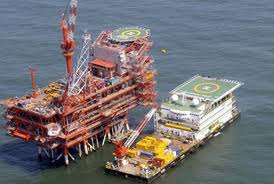 14 March 2013, Lagos – Nigeria's offshore drilling expenditure will reach $2.26 billion in 2016, research has shown.
This is according to a report by GBI Research, a business intelligence firm, providing offshore drilling forecasts for Africa and the Middle-East.
The reports said the figure for Nigeria is behind projected expenditure for Angola at $6.67 billion and is followed by that for Egypt ($1.52 billion).
Angola is Africa's second largest oil producer after Nigeria, but is gradually coming up behind Nigeria. With expected huge investment in exploration and production, experts say the Southern African country constitutes a major threat to Nigeria both in capacity and ability to attract investment.
Nigeria has not seen major investment in the last six years and the number of wells drilled has also been on the decline since 2006.
The delay in passing the Petroleum Industry Bill, PIB, has caused a decline in drilling in the country, as oil majors have put exploration and development activities on hold, pending the passage of the bill.
Managing Director, Shell Nigeria, Mutiu Sunmonu, said the company has put investment decisions on two key offshore oil and gas projects worth $30 billion on hold.
Petroleum Minister, Mrs Diezani Alison-Madueke, had said that the PIB, which passed through second reading in the Senate last week, would ensure the development of Nigeria's abundant oil and gas reserves.
She affirms that the long delay in the passage of the oil industry reform bill has resulted in rapid decline in new investments in the oil and gas industry.
GBI Research also predicted that offshore drilling expenditure across the African region will climb from $13.56 billion in 2012 to $17.03 billion in 2016. Cumulatively, the total expected spend for this five-year period is $77.3 billion, which represents an increase of approximately 22 percent over the 2007-2011 total of $63.5 billion.
It expects that Ghana would emerge one of the most prominent countries in West Africa for the exploration of oil and gas, with 16 offshore discoveries made between 2008 and 2012 – second only to Angola, where 22 discoveries were made during the same period.
The research suggests that oil exploration activity would continue at a rapid pace offshore West Africa, with confirmations of previous discoveries and new finds that indicate more drilling and production ahead.
Already, there have been significant new discoveries in Ghana, Tanzania, Mozambique and Uganda, with prospected fields in other countries, including Sierra Leone, Mali and Kenya.