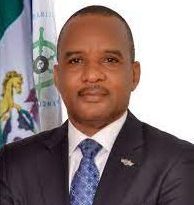 Michael James
Leeds, England — The Nigerian Maritime Administration and Safety Agency, NIMASA, working with officials of Total Energies EP Nigeria Limited, rescued occupants of a distressed fishing vessel belonging to a national of São Tomé and Príncipe, which has been adrift in the ocean for 11 days.
A rescue team from Total Energies Nigeria Limited, on noticing the distressed vessel at sea around offshore operational field, OML 100, immediately sent signals to the Regional Maritime Rescue Coordination Centre, RMRCC, located in NIMASA informing the Agency of the situation.
In line with the International Maritime Organisation, IMO, Safety of Lives at Sea, SOLAS, protocol, the TotalEnergies team promptly initiated a rescue operation and immediately handed over the occupants of the distressed vessel to NIMASA, while the boat was anchored at OSHE HONMI (OML 100).
NIMASA has, through its Search and Rescue SARS clinic provided first aid, and later comprehensive medical attention to the distressed passengers, who speak only Portuguese and have since been handed over to the Nigerian Immigration Service to ensure return to São Tomé and Príncipe.
Reacting to the development, the Director General of NIMASA, Dr. Bashir Jamoh, applauded the cooperation between
NIMASA and Total Energies
for the swift response, noting that safety of the maritime sector is cardinal to the heart of the current leadership of the Agency, which forms part of the three-point Agenda.
"We will continue to prioritise safety of lives and property in the maritime sector, while also embracing collaboration as a tool to actualizing our mandate. Safety is everyone's business, hence we must continue to preach safety in the day-to-day affairs of the Nigerian maritime sector", Jamoh said.
It is noteworthy that NIMASA recently acquired five enforcement vessels to enhance its Flag, Port state and Search and Rescue operations in the Nigerian maritime domain.
Safety of Life at Sea Convention is an IMO Convention, ratified by Nigeria, with NIMASA as the implementing body.