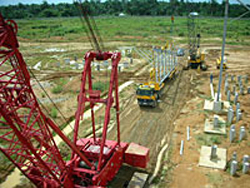 Chidi Nkwopara
25 February 2013, Sweetcrude, Owerri – Some citizens of Imo and Abia States whose property lie between Alaoji in Abia State and Owerri, Imo State, allegedly swindled by some estate surveyors and valuers in the execution of the National Independent Power Project, NIPP, are now spoiling for war.
Investigation revealed that although these property owners may have lost billions of Naira in the process, they have vowed not to part with their property until they recover every unpaid kobo accruable to them.
Irked by this ugly development, one of the aggrieved property owners and Managing Director of ABC Transport, Mr. Frank Nneji, has dragged one of the estate surveyors and valuers (name withheld) to an Owerri High Court, with a view to recovering his unpaid money.
Narrating his ordeal in a 16-paragraph affidavit filed in suit number HOW/819/2012, Mr. Nneji, expressed shock that while the Federal Government and/or Power Holding Company of Nigeria/NIPP approved the sum of N220,999,500 for his property at Umuofor Egbu, the estate surveyor and valuer paid him only N90 million.
According to him, "The purpose of the donation (of the power of attorney to the said estate surveyor and valuer) was to demand, negotiate and receive all monies due and payable to me as compensation for surface rights, including loss of farming, fishing ponds, economic crops, immovable structures and such other interest to be affected by the acquisition and construction of 330 HTL OHTL transmission line from Egbu, Owerri to Alaoji, Abia State."