*Vows to continue fight for members' rights   
*Accuses NLNG of 'partnering in slave labour'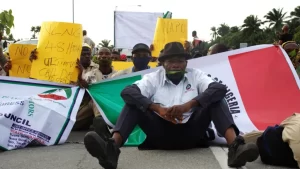 Mkpoikana Udoma
Port Harcourt — The National Association of Plant Operators, NAPO, has dug in on the ongoing crisis between it and Daewoo E&C Nigeria Limited, saying its members will not be intimidated or cowed by the alleged antics ***of the company in using Nigerian workers as slaves in their own country.
The President General of NAPO, Harold Benstowe, said his recent arrest by the Department of State Services, DSS, and subsequent arraignment in a magistrate court in Port Harcourt, Rivers State, was masterminded by Daewoo and Saipem, although both firms have denied knowledge of the case.
Benstowe also accused the Nigeria LNG Limited,
NLNG
, of being a part of what he described as "inglorious human slavery being perpetrated by their contractors, Daewoo and Saipem, in the construction of the (NLNG) Train-7 project."
The NAPO president said contracts for NLNG Train-7 project was negotiated and awarded with  international scale and wondered why the contractors and the project owners were not applying international standards in the payment of salaries and wages to Nigerians working on the project.
He challenged the NLNG to provide the salary benchmark for workers as negotiated in the contracts, while wondering why Daewoo was bent on spending money on litigation and to allegedly induce security agencies instead of paying Nigerian workers their entitlements.
He said: "We see this action as an act of intimidation that will never hold water.  They have tried it before between 2016 and 2021 when Daewoo was constructing a fertiliser plant for Indoroma.
"It is even more worrisome that we have some corrupt police officers who have the habit of receiving inducement to subject Nigerian workers to slavery.
"NAPO under my leadership will never be intimidated to abandon our members – Nigerian workers.
"We are calling on all our members in other firms, including Chevron, Nigercat, Saipem etc, to remain resolute and focused; and not to be carried away by the preposterous claims by NLNG that they are not aware of what is happening.
"We all know that NLNG is part and parcel of what Saipem and Daewoo are doing, otherwise they would have called their contractors to order from the inglorious slave labour being carried out by their contractors.
"If NLNG is truly innocent, they will make sure that Nigerian workers are fully protected in their facility by ensuring that their contractors abide by Nigerian and international labour laws which protect the rights of workers.
"We will never rest, and we will never be intimidated and we will follow this matter to a logical conclusion by our members in Saipem and Daewoo and every other firm are protected."
The NAPO boss also urged employees of Daewoo not to be cowed by the purported termination of their employment, saying that Section 20 of the Nigerian Labour Act clearly spells out what it takes for a company to embark on redundancy, of which Daewoo has not shown any proof that they have complied with the law.
They should not be cowed into joining other unions being introduced by Daewoo's management. Which is against a citizens inalienable freedom of choice.
According to him, the management does not have the right to choose a Labour union for its employees, accusing the other unions of been bought over.
"We are going to fight both legally and labour approved actions. We don't care whoever has been bought. We must protect the Nigerian workers from slavery.
"This jobs have a salary benchmark for workers. NLNG should come out with that benchmark. This project was negotiated from international standard, why are they not using the same international standard in payment of salary and wages to workers?
"Daewoo is ready to spend money on litigation and to induce security agencies instead of coming to the negotiation table to pay Nigerian workers their entitlement.
"Without the plant operators there will be no construction and there will be no development. We develop the economy," he added.