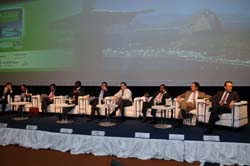 03 October 2012, Sweetcrude, Abuja – The Nigerian National Petroleum Corporation (NNPC) has described the appointment of Adebayo Ibirogba, the Group General Manager, NNPC Greenfield Refineries, as the Vice President of the World Liquefied Petroleum Gas Association (WLPGA) board of directors as a welcome development that would impact positively on the nation's gas growth and development.
The Acting Group General Manager, Group Public Affairs Division of the NNPC, Mr. Fidel Pepple disclosed this on Wednesday in Abuja.
Mr. Pepple said Ibirogba's appointment was ratified at the recently concluded WLPGA Annual Forum in Bali, Indonesia, and takes effect from September, 2012.
He informed that the GGM Greenfield Refineries represents the NNPC on the Industry Council of the Association and described him as a seasoned engineer with several years of experience in the oil and gas industry.
Mr. Pepple further disclosed that Ibirogba is a registered member of the Nigerian Society of Engineers, British Institute of Management and Energy Institute of the UK with experience in Project Engineering, Refining, Petrochemicals, and International Trading amongst others.
He said that WLPGA is the authoritative and global body for LPG with the mandate to promote the use of LPG worldwide for a cleaner, healthier and more prosperous environment across the globe.
The WLPGA Board of Directors is made up of leading players from the LPG Industry globally. They include Chairmen, Presidents and Chief Executives of various global brands such as Total Gas (France), Pertamina (Indonesia), Kosan Crisplant (Denmark), Astomos (Japan) and Gasco (Chile).