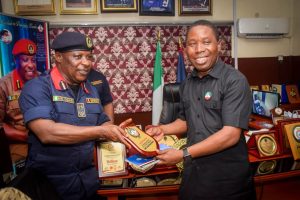 Mkpoikana Udoma
Port Harcourt — The Nigeria Security and Civil Defence Corps has condemned the brutalization of electricity workers by operatives of the Corps in Port Harcourt, saying that the Corps frowns at all acts of dehumanization, brutality and infringement on the fundamental human rights of citizens.
Recall that on the 20th of March 2023 operatives of NSCDC in Rivers State reportedly attacked, brutalized and unlawfully detained customers and staff of the Port Harcourt Electricity Distribution Company, PHED over alleged disconnection of power supply to the NSCDC headoffice in Port Harcourt.
Operatives of Corps stormed a PHED injection substation in Rumuola, Port Harcourt and violently attacked and brutalized with whips, both staff and customers, including a pregnant woman, destroyed properties worth millions of Naira, and carted away phones, cash, valuables of the victims and whisked away some of them to their office for illegal detention.
But the NSCDC Commandant in Rivers State, Michael Besong Ogar, during a meeting with executives of the Trade Union Congress in the state, apologised to the Labour union over the brutalization of electricity workers by the operatives of the Corps in state.
Ogar who sympathized with the PHED staff who were brutalized and molested by NSCDC operatives from his command, assured that his administration will commence payment of electricity bills, so that the Command can be reconnected for power supply.
He maintained that stronger collaborations with the Command would enhance better relationship and effective service delivery.
"We will appreciate your support most especially by giving credible information that would assist us in the fight against oil theft in Rivers State. It is very lamentable that export of crude oil in the nation has not reached 3million barrel per day just as it is in some nations of the world. However, we will not deter in fighting oil theft in Rivers State which is the main reason we need you to collaborate with us.
"Let me also relay that my administration will commence payment of the amount which accrued as electricity bill, and we will start immediately. I also want to sympathize with the Staff of PHED that were purportedly molested; the Command is already making moves to ameliorate their pains.
"We are not happy with the action taken by our operatives as they are currently facing punitive measures at the National Headquarters in Abuja; we also believe that the disciplinary measures put in place would serve as deterrent to others nursing such condemnable behaviour in their mind."
Earlier, the Chairman of TUC in Rivers State, Sir Ikechukwu Foster, said that the misunderstanding between the PHED management and the Command calls for transformational collaborations which would definitely improve and promote healthy relationship in subsequent times.
"We sincerely appreciate the Rivers State Commandant for giving us the opportunity to discuss and reach workable terms in resolving the matter which has been trending for the past few weeks, having heard from you, we would meet the PHED management and get your light reconnected in due course."