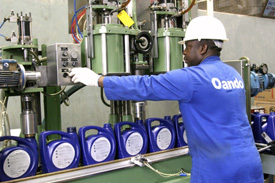 06 October 2012, Sweetcrude, LAGOS – The US Trade and Development Agency, USTDA, has signed an agreement with Oando Gas and Power Limited worth 494, 000 dollars for the distribution of clean energy in Nigeria.
A statement issued by the US Embassy in Lagos, which was made available on Friday said that the agreement was signed by the Consul General, Mr Jeffrey Hawkins, and Chief Executive Officer, Oando, Mr Mobolaji Osunsanya.
The statement said the grant would be used to carry out feasibility study to evaluate viability of developing large-scale Compressed Natural Gas, CNG, refueling infrastructure in Lagos State.
"The new infrastructure would include the construction of numerous refueling stations across the state, as well as vehicle maintenance and repair facilities.
"The study will also provide an analysis of policy and regulatory issues surrounding development, " the statement said.
The statement stressed that when completed, it would play a critical role in Nigeria government's effort of creating domestic market for natural gas.
It added that the project would also strengthen business relationships between the two countries.
The statement said that interested US firms should check the Federal Business Opportunities, FBO, website, and submit their proposals.