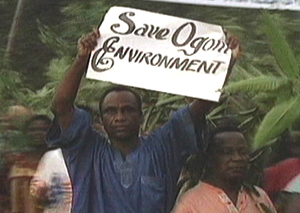 Jimitota Onoyume
10 August 2012, Sweetcrude, PORT HARCOURT — OGONI have urged the Federal Government to ensure that the $1 billion start up fund recommended by United Nations Environment Programme, UNEP, for clean-up of Ogoniland for the first five years was used for the area alone.
Chairman, Provisional Council of Movement for the Survival of Ogoni People, MOSOP, Prof Ben Naanen, in a statement, Thursday at the end of a congress of Ogoni people in Bori, said the Ogoni were not happy that it took the government over one year to respond to the report released by UNEP on the scientific study of Ogoni environment.
He noted that the government had chosen to act outside the report which recommended the setting up of an Ogoni Environment Restoration Agency by setting up Hydrocarbon Pollution Restoration Programme, HYPREP, to cover all areas in the region experiencing hydrocarbon pollution.
Noting that the action of the government should not undermine implementation of the report in the area, he urged the government to ensure that the report was implemented with UNEP, an international agency exercising oversight on quality assurance.
He said: "These concerns, notwithstanding, the Ogoni people have decided to give the Federal Government the benefit of the doubt by accepting HYPREP, realising that other parts of the Niger Delta also suffer oil-related pollution like Ogoni, and having received guarantees from the representatives of HYPREP and National Oil Spill Detection and Response Agency, NOSDRA.