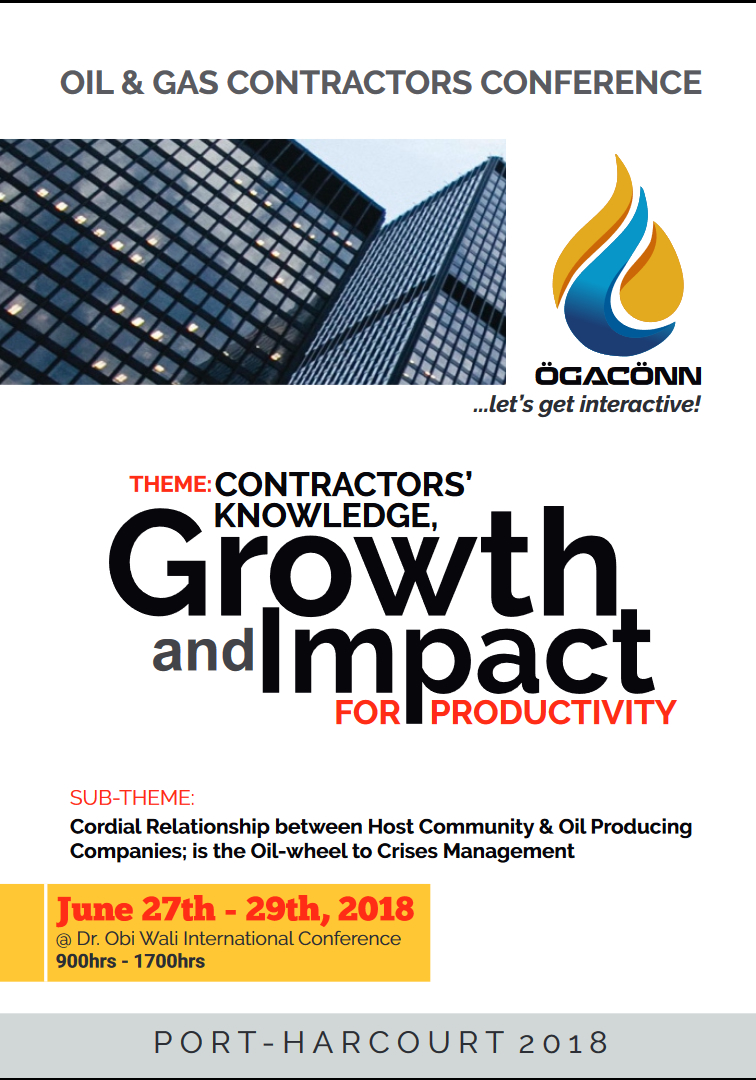 Mkpoikana Udoma
29 May 2018, Sweetcrude, Port Harcourt — A conference where oil and gas contractors, oil producing companies and host community leaders across the country will converge to acquire knowledge on how to manage crises, would hold next month in Port Harcourt.
The conference which has been tagged 'Oil and Gas Contractors Conference, OGACONN 2018' is to hold on 27, 28 and 29 of June 2018 at Dr.Obi Wali International Conference Centre in Port Harcourt, the capital of oil-rich Rivers State.
Speaking on the objectives of the event, OGACONN 2018 Program Director, Dr. Larry-Goodwill Ajiola, stated conference will afford contractors and host communities ample opportunity to enjoy benefits provided by different local, national and international organizations through intervention fund.
Ajiola who is the MD/CEO of I.Contact-Connect Communications Limited, the organisers of the event, said the programme will be hosting over 2000 oil and gas companies, contractors, host communities, federal government agencies, corporate organization and state chambers of commerce in the Niger Delta region.
He explained that the three days event with the theme, 'contractors knowledge, growth and impact for productivity' present an opportunity for all community development chairmen, oil companies contractors, intending contractors and all stakeholders in the oil and gas sector of the economy.
According to him "This event is designed by the organisers to impart knowledge for competitive advantage for problem-solving in the oil producing companies, oil producing communities and contractors through profitable information for all parties.
"The event is mainly designed to solve problems facing local contractors on how to get advantages of local content policy in other to grow and boost capacity which at the long run will be beneficial to all parties, especially financing, information, opportunities for the contractors.
"Ogaconn 2018 will also feature a presentation from government agencies concerned, experts in oil and gas, and corporate organizations. Opportunities will be given to attendees to ask questions, while their questions will be addressed by experts and facilitators."
The Program Director, also disclosed that the conference is an opportunity for the attendees to be educated on the key issues causing problems between host communities, oil companies and contractors as well as the solutions for the problem.
He added that the event which is organized by I.Contact-Connect Communications Limited in collaboration and endorsement of oil companies, corporate organizations and government agencies such as the federal ministry of petroleum resources.
"The objective of organising Ogaconn is, to strengthen the contractors and oil and gas producing companies relationship, promoting cordial relationship and investment patronage and services, acting on behalf of contractors to have a commercial and industrial interest that is beneficial to both parties.
"Others are, encouraging contract among oil producing companies irrespective of the organization, organising functions on information of current importance to the commercial community, where they will discuss problems of mutual importance.
"There is going to be special awards for 27 contractors and oil companies. Special packed presentation by the stakeholders like government institutions, oil and gas producing, processing, marketing and regulating organizations.
"There shall be a specialise business exposition for interested oil and gas contractors to Singapore, Malaysia, Holland, Germany and Sofia after the event, which is already packed by the organizers."