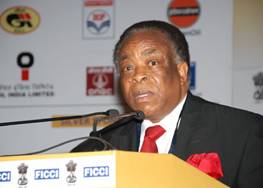 18 August 2013, Abuja – Over 80% of all imported radioactive sources are used in the oil and gas sector, the former alternate chairman, Nigeria Nuclear Regulatory Authority, NNRA, Dr. Emmanuel Egbogah, has stated.
According to him, the radioactive sources are used for industrial radiography, nuclear gauging and radio-tracing.
Speaking at the technical meeting on regulating applications in the oil and gas sector: challenges and stakeholders expectations at Abuja, he noted that most of the sources used in these practices are itinerant, causing higher oversight challenges for regulators.
Egbogah also stated that the NNRA has an uphill task for the safe application of sources given the increased demand for its services and oversight.
This, he explained, is because the agency's primary interest is to ensure safety, radiation protection of personnel, public and environment.
He added that NNRA interest is also in the security of radioactive sources and facilities where they are used as well as the cost of oversight activities.
He called for good synergy among stakeholders to ensure effective implementation of programmes for physical security, radiation protection and emergency response.
NNRA's Acting Director General, Dr. Martins Ogharandukun, explained that though Nigeria has not recorded any calamity resulting from misuse of radioactivity, the meeting was to avoid such disaster.
­- John Ofikhenua and Chioma Onyia, The Punch